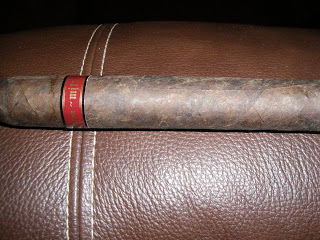 #14 Illusione Maduro
This epic encounter brings us to a brand of cigars that makes its first appearance on the Cigar of the Year countdown.   For this encounter, a popular line of cigars gets a new wrapper, and a whole new taste.
Coming in at #14 is the Illusione Maduro.   The Illusione Maduro line is an extension to the popular Illusione core line.  Five vitolas of the core line were given the maduro wrapper: cg4, 88, 888, mj12, and hl.  For the maduro wrapper, Illusione went with the San Andres wrapper from Mexico.  San Andres wrappers are terrific when it comes to fermenting them into maduro wrappers.  This wrapper has really fused well with the Illusione core line blend.
One thing that I have found very interesting about the Illusione Maduro line is that each of the vitolas delivered a different smoking experience.   For the most part, the line delivers a well-balanced medium strength and medium to full-bodied smoke.  The flavors consist of chocolate, baker's spice, cinnamon, raisin, and tea notes.  Overall the cigars showed great consistency each time I smoked it.
Since each of the vitolas had a different smoking experience, some assessments done in this line for 2011 are linked in the "Vitolas Available" section.
Blend Profile
Wrapper: San Andreas Maduro
Binder: Nicaraguan
Filler: Nicaraguan
Vitolas Available
mj12: 6 x 54
88: 5 x 52
cg4: 5 5/8 x 48
hl: 7 1/2 x 40
888: 6 3/4 x 48
Recommended Vitola: mj12 (Toro)