The cigar industry demonstrates why it is a leader when it comes to giveback….

FOR IMMEDIATE RELEASE: TORANO FAMILY CIGAR CO. HOSTS 2ND ANNUAL HOLIDAY TOY DRIVE IN MIAMI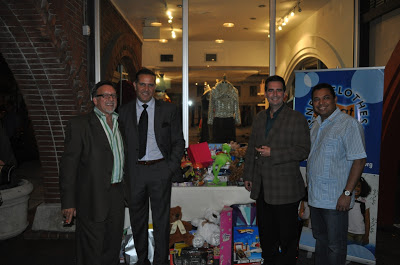 Jorge Guevara of 880 the Biz, Franklin Monjarrez of Neat Stuff for Kids and Carlos Llaca-Torano with toys collected at Toy Drive
(Miami, FL) December 27, 2011— Torano Family Cigar Co. partnered up with media sponsors Cigar Snob Magazine, Social Florida Magazine, and South Florida Luxury Magazine along with local radio station 880 AM The Biz for the second annual Torano Family Holiday Toy Drive this past Wednesday, December 7. This toy drive benefits Neat Stuff for Kids
which is a Miami based non for profit organization whose main focus is
to provide brand new clothing to children who come from abused and
underprivileged homes.
Torano
Family Cigar Co. hosted over 300 guests at Andalus restaurant located
in the vibrant Design District in Miami. Guests were asked to bring an
unwrapped toy to be part of this amazing gathering which featured Torano
family's award winning cigars and cocktails courtesy of Abuelo Rum and
Chambord Vodka. Guests were also treated to delicious bites courtesy of
Andalus which specializes in gourmet Spanish cuisine.
Torano Family Cigar Co. was represented by Carlos Llaca-Torano and Jack Torano who provided a wide array of Torano cigars to include new release Loyal.
Guests smoked Torano's best under the Miami stars in Andalus' smoker
friendly terrace. Carlos and Jack were only happy to cut and light
cigars for guests while sharing information with event goers about
Torano family history and its cigars blends.
Franklin Monjarrez,
Executive Director of Neat Stuff for Kids who is a Torano cigar smoker
himself said, "It is special when a local company like Torano Family
Cigar Co. cares enough about the community to once again host this
amazing event benefiting our charity which helps those children who need
help the most.
Charlie Torano,
President of Torano Family Cigar Co. said," We appreciate the support
we receive from our community here in South Florida and the best way to
show that appreciation is to give back to those who need help the most.
Neat Stuff for Kids is truly an amazing organization that touches the
lives of underprivileged children every day. We are grateful to have had
the opportunity to host this Holiday event for the second time which
brought awareness to its cause."
A
leader in the cigar industry, Torano Family Cigar Company is a four
generation company currently based in Miami, FL. It enjoys a rich
heritage and history in tobacco growing and manufacturing. For more
information:
www.torano.com
. Please also follow Torano on Face book: Torano A family Cigar Company or on Twitter: @TORANOFAMCIGARS.
Source: This press release was sent by Creativas Group
Public Relations, a group that handles public relations for Torano
Family Cigars. Cigar Coop will post press releases as a service to all
cigar companies that choose to send Cigar Coop press releases.