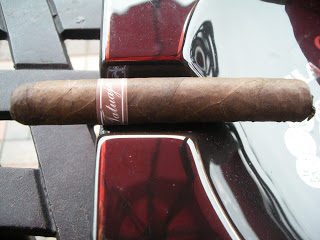 Tatuaje Petite Cazadores Reserva
The Tatuaje Petite Cazadores Reserva was unveiled in 2010 to provide cigar enthusiasts with a quick smoking experience. The Petite Cazadores Reserva looks like one of the "Seleccion de Cazador" (Brown Label) cigar and that's because it's an actual variation of that line. It uses a Connecticut Broadleaf wrapper as opposed to Ecuadorian Habano that is used on the core Seleccion de Cazador. This cigar has gained quite a solid reputation among Tatuaje fans. While this does prove to be a short smoke, it most certainly proves to be a memorable one.
In general I've found the "Reserva" line to be a little confusing to follow with Tatuaje lines. I look at the "Reserva" line as special variations of existing blends. There are some actual "Reserva" cigars as well as the Gran Cojonu, Cojonu 2003/6/9, and RC Series that are considered "Reservas". These particular cigars also have an Ecuadorian Habano wrapper. There are also three cigars that are named "Reserva" that feature a Connecticut Broadleaf wrapper: the Tatuaje 7th Reserva, Tatuaje Petite Reserva, and Tatuaje Petite Cazadores Reserva. In this assessment, we will focus on that Petite Cazadores Reserva.
Blend Profile
As mentioned, the Tatuaje Cazadores Reserva is highlighted by its Connecticut Broadleaf wrapper. The remainder of the blend pretty much mirrors the Seleccion de Cazador line. As with all Tatuaje cigars, this is an effort worked on by the Garcia family.
Wrapper: Connecticut Broadleaf USA
Binder: Nicaraguan
Filler: Nicaraguan
Vitolas Available
Since there are a lot of variations in the Reserva line, we will just focus on the Petite Cazadores Reserva cigar. As mentioned at the top of this assessment, this is a short smoke. This cigar is a 4 x 40 vitola – one I'd classify small panatela. The Petite Cazadores Reserva is packaged in cabinet boxes of 50.
Appearance
The Connecticut Broadleaf wrapper of the Petite Cazadores Reserva has a classic chocolate color to it. It has some veins, some seams, and a slight oily feel to it. It also features a covered foot.

Covered foot of the Tatuaje Petite Cazadores Reserva
The band of the Petite Cazadores Reserva is the same "brown label" as the Tatuaje Seleccion de Cazador. It's a simple with Tatuaje in white script on a brown background. The band also has white pinstripes on the top and bottom (see start of article).
Preparation for the Cigar Experience
For this assessment of the Petite Cazadores Reserva, I went with a straight cut. I proceeded to commence with the pre-light draw. The dry draw notes yielded flavors of cocoa and cedar. While there was nothing revolutionary about this pre-light draw, it was still very satisfying. It was now on to light my Petite Cazadores Reserva and see what would come to the table.
Flavor Profile
The Petite Cazadores Reserva is a short smoke, so it is not going to provide much in the way of flavor transitions. However the flavors it is going to provide are going to be outstanding.
The initial draw of the Petite Cazadores Reserva provided a quick blast of pepper – a-la Garcia family style. The pepper settles in and the flavor profile became s a combination of chocolate, espresso, and pepper. While the pepper diminished early, it never really went away. It eventually became the dominant flavor note by the end of the smoke. The finish was spicy, but not harsh. The resulting nub was soft and a little lukewarm.
Burn and Draw
The Tatuaje Petite Cazadores Reserva scores high marks in area of burn and draw – showcasing that this is a very well-made cigar. The burn is outstanding from start to finish. It required virtually no touch-ups. The burn rate was ideal. While the finish was a little lukewarm, the burn temperature was satisfactory for most of the smoking experience.
As for the draw, it was outstanding. It made the Petite Cazadores Reserva a joy to smoke.
Strength and Body
For a small cigar, the Petite Cazadores Reserva is going to pack a nice punch. From a nicotine standpoint, I think it was still a tad below full strength and I assessed it at medium to full. As for the body, the flavor notes are bold. This is your classic full-bodied smoke.The nice dose of flavor combined with what I consider to be the right amount of power make the Petite Cazadores Reserva a well-balanced cigar.
Final Thoughts
While personally I am not a huge fan of the small panatelas, even I recognize that they do hold a purpose. The Tatuaje Petit Cazadores Reserva shows that a great cigar experience can be delivered in a short time period. While it is a small cigar, I would advise not rushing through the smoking it. Take your time and you will get a really good cigar experience in the long run. While I wouldn't advise this for the novice cigar enthusiasts, this will satisfy many full-bodied cigar fans. Not only would I smoke this again, I'd even consider purchasing the cabinet of 50.
Summary
Burn: Excellent
Draw: Excellent
Complexity: Low
Strength: Medium to Full
Body: Full
Finish: Good
Assessment: Memorable
Score: 92
Source: The cigar used for this assessment was gifted by a friend.