The following is the official press release for the La Palina El Diario KB (Kill Bill). This is a cigar we recently assessed and rated a 95.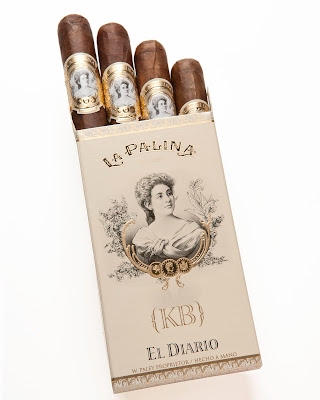 Country of Origin: Honduras
Factory: Raices Cubana
Wrapper: Honduran Corojo '99 Rosado
Binder: Honduran Criollo '98 (x2)
Filler: Nicaraguan Corojo '99 and Criollo '98
Size: 4.25 x 40
Packaging: sleeve of 5 – 4 packs
MSRP: $35.00 4pk or $8.75 each
Going against the grain of the industry's focus on large ring gauge cigars, La Palina is bringing a petit corona to market. The petit corona has always been a favored vitola in Bill Paley's humidor, and is his preferred size for the daily drive home from the office. Jokingly referred to as the "Kill Bill" during initial blending stages of the El Diario line, the name stuck. The La Palina El Diario KB is a line extension of El Diario's current 5 facings.
The KB is a richly flavored full bodied cigar. The sweet characteristics of the Honduran rosado wrapper round out the spicy notes of the Nicaraguan filler. The double binders from Honduras refine and complete the blend creating beautiful balance. Take these puppies for a walk!
A petit corona with the heart of a churchill.
Source: This press release was sent by Courtney Smith of La Palina Cigars.
Cigar Coop will post press releases as a service to all cigar companies
that choose to send Cigar Coop press release.