TORAÑO FAMILY CIGAR CO. TAKES PART IN 8TH ANNUAL RINGSIDE BOXING EVENT TO BENEFIT THE CHARLEY FOUNDATION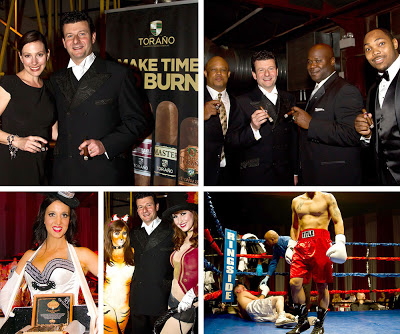 (Miami, Fl.)March 19, 2012 – Torano Family Cigar Co. was honored to be chosen to participate in the Charley Foundation's 8th Annual Ringside: A Fight for Kids on Friday, March 2, 2012 at Liberty Hall, in The Factory at Franklin. The Charley Foundation
is a Nashville-based non-profit organization that provides support to
charitable agencies addressing the critical needs of children. This
year's black-tie boxing event was emceed by Storme Warren, host of GAC's
Headline Country and Music Row Happy Hour on Sirius/XM Highway 16 Radio. Tom Baldrica, president of Nashville music label Average Joe's Entertainment, served as ring announcer.
Torano Vice President of Sales and Marketing Bruce Lewis
and Torano Territory Manager Andrea Hummel proudly represented Torano
Family Cigar Co. as they hosted guests at the Torano cigar lounge
located on the second level overlooking the boxing ring and stage.
Guests who included celebrities and NFL Alumni enjoyed some of Torano's
finest handmade cigars while taking in a spectacular night of
professional boxing, live music performances, and live auction.
Event
guests started the evening with gourmet dining and were entertained
with musical performances by 80's pop sensation Tiffany, Country artists
Bridgette Tatum, James Otto, and Ira Dean. Once the music died down,
the action revved up as four professional boxing bouts were sanctioned
by the Tennessee Athletic Commission for the evenings main event. The
Torano lounge was in full swing at this point, as boxing and smoking
premium cigars are a perfect match. Bruce Lewis was on hand to educate
and share Torano family history as event guests were able to choose
award-winning Torano cigars from custom made cigar menus created for the
event.
"The Ringside: A Fight for Kids" was a grand night for a great cause. President of Torano Family Cigar Co. Charlie Torano
said," We have made a conscious decision to set aside resources for
functions that give back to the community and we here at the Torano
family were grateful to have been part of this great event. The Charley
Foundation does amazing things to help children and we hope that this is
only the beginning of a wonderful relationship with this great
organization."
A
leader in the cigar industry, Torano Family Cigar Company is a four
generation company currently based in Miami, FL. It enjoys a rich
heritage and history in tobacco growing and manufacturing. For more
information:
www.Torano.com
. Please also follow Torano on Face book: Torano A family Cigar Company or on Twitter: @TORAÑOFAMCIGARS.
About The Charley Foundation:
The
Charley Foundation is a 501(c)(3) non-profit organization that provides
support to charitable agencies addressing the critical needs of
children. Through donations, sponsorships and fundraising events, the
Charley Foundation supports agencies that provide relief for children
who are victims of neglect, abuse or other crises, children who live
with chronic or critical illness, children who endure poverty or
homelessness, and children who require mentoring or other proactive
outreach. An entirely volunteer-driven organization, the Charley
Foundation guarantees that each charitable agency they support is a
non-profit, tax-exempt charity governed by volunteers. Additionally, all
organizations that are funded must submit an annual independent
financial audit, keep overhead and administrative expenses to a minimum
and maintain a policy of non-discrimination.
Creativas
Group Public Relations Inc. provides public relations and marketing
counsel to South Florida-based businesses, nationally recognized special
events and leading non-profit organizations. For more information,
please log onto www.creativasgroup.com or email info@creativasgroup.com.
Source: This press release was sent by Torano Family Cigar Company.
Cigar Coop will post press releases as a service to all cigar companies
that choose to send Cigar Coop press releases.