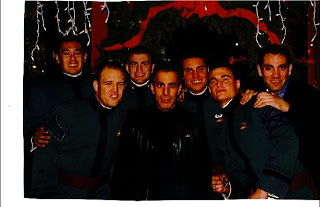 Larry Amoruso (4th from left) – flanked by the military
We don't promote a lot of events on this web-site anymore, but we do get some press releases or emails and from time to time will still do so. However, when this email came to me today, it was without question I was going to promote this event here.
Larry Amoruso was the owner of Florio's Restaurant and Three Little Indians in Little Italy, New York.
Amoruso passed away last year to cancer
. Without Larry Amoruso, I probably would not be a cigar enthusiast, and thus there probably would not have been a Cigar Coop web-site.
A fundraiser is being made to benefit the college fund for Larry's children. It is being held at Florio's Restuarant. This is a wonderful restaurant and is located downstairs from the Three Little Indians Cigar Lounge. I miss these places greatly since leaving New York.
Without question, Larry was a huge supporter of both our military and for cigar rights. He dedicated a lot of resources to keep the fight to enjoy a good cigar going. Larry was also a friend, and I still miss him a greatly.
Here is the email and flyer I received:
On January 13th 2011
we lost Larry Amoruso to cancer. For many of us Larry was lost without a
goodbye and in some instances it was a shock he was gone at all. Larry
was a staunch supporter of our military and fought for all of us here in
New York, so we may enjoy a cigar in his beloved restaurant. We would
like to honor Larry next Wednesday May 2nd at
Florio's. We will be supporting his wife Caroline and his two boys
Daniel and Gabriel. Please see attached invitation; we hope to see you
all there.