April 24, 2012
COUNTERFEIT COHIBA CIGARS SEIZED IN MIAMI
Richmond, VA—
General Cigar
announces that a team of special agents from the Miami Office of the Florida Division of Alcoholic Beverages & Tobacco conducted raids yesterday resulting in the seizure of over 10,000 counterfeit
COHIBA
® cigars with an estimated retail value of more than $200,000.
The counterfeit cigar seizures followed an investigation conducted by law enforcement, in cooperation with General Cigar, which is the exclusive owner of the COHIBA trademark in the U.S.
The raids took place at retail stores located on Calle Ocho, a popular tourist destination in Miami's Little Havana district. Law enforcement officials are expected to file criminal charges for violations of Florida state law relating to counterfeit goods.
The seized counterfeit cigars featured cigar bands displaying the word COHIBA® and "Republica Dominicana" and were packaged in various styles of wooden boxes which also displayed the COHIBA® mark. According to the special agents involved, approximately 1,800 boxes of counterfeit COHIBA® cigars were seized.
Dan Carr, president of General Cigar said, "Protecting cigar consumers from counterfeiters and maintaining the integrity of our products is a top priority for the company, and we are very grateful for the efforts of the Florida Division of Alcoholic Beverages & Tobacco. We will continue to cooperate with law enforcement as the investigation continues."
General Cigar devotes significant resources to protecting the COHIBA® brand, which is a frequent target of cigar counterfeiters. In November of 2011, the company's cooperation with federal and Florida state law enforcement agencies led to the seizure of more than 3,000 counterfeit COHIBA® cigars from seven tobacco retail stores located in Key West, Florida.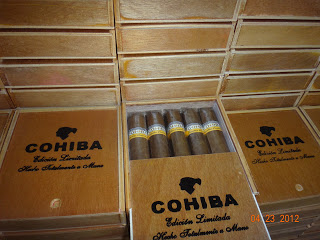 About General Cigar
General Cigar Co. Inc., a division of Scandinavian Tobacco Group, manufactures and markets handcrafted cigars for the premium market. Committed to delivering cigars of the finest quality, General Cigar's skilled artisans produce Macanudo®, COHIBA, La Gloria Cubana®, CAO, Partagas®, Punch®, Hoyo de Monterrey®, Excalibur® and several other leading premium brands in the company's Dominican, Honduran and Nicaraguan factories.
In addition, the company cultivates proprietary tobacco which is used exclusively in its blends. General Cigar also operates Club Macanudo®, a cigar bar in New York City. Based in Richmond, VA, General Cigar sells through tobacconists nationwide and also exports select products to 62 countries. For more information, please visit
http://www.cigarworld.com/
.
® COHIBA, Macanudo, La Gloria Cubana, Partagas, Punch, Hoyo de Monterrey, Excalibur and Club Macanudo are registered trademarks of General Cigar Co. Inc.
Source: This press release and associated photos were sent by General Cigar. Cigar Coop will post press releases as a service to all cigar companies that choose to send Cigar Coop press releases.