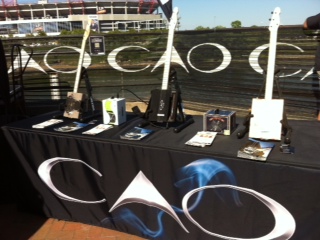 CAO CIGARS and TWO
FOOT FRED to ROCK CMA MUSIC FESTIVAL
CAO will
have a big presence at the event, with two separate locations including a
luxury cigar lounge boasting VIP views of the Riverfront daytime stage.
Featuring a personal appearance and photo ops with country music's celebrity
emcee/ CMA Music Festival fan favorite/premium cigar connoisseur
Two Foot Fred
, the swanky cigar lounge
will also feature meet and greets with CAO Brand Ambassador Rick Rodriguez who
will be on hand to share details about the upcoming new collection of
CAO
Cigars
, aptly called "Concert."
"CAO was originally launched in Nashville, so
music is in the brand's DNA," commented Alan Willner, vice president of
marketing for General Cigar, parent company of CAO Cigars. "Since the music
occasion is a perfect opportunity to enjoy a premium, hand crafted cigar, we are
happy to be part of the CMA Music Festival. It's the perfect venue for us to
continue CAO's ties with music. We look forward to welcoming country music fans
to our relaxing lounge environment and to sharing the premium cigar lifestyle
with them."
Nashville's
own
UPtown's
Smoke Shop
will work in partnership with CAO, selling an array of
handmade CAO cigars to consumers of legal smoking age who visit either of the
two CAO areas during the CMA Music Festival. Visitors to the CAO lounge will
also have a chance to enter the CAO Photo Booth to take away souvenir photo
strips from the event. For the technically savvy country music fan, photos can
be uploaded onsite to Facebook or Twitter.
Two Foot
Fred said, "UPtown's is my favorite cigar shop, hands down. It's my pleasure to
make the appearance for them at the CAO booth as my way of thanking them for
the great customer service they've shown me over the years."
CAO will
post live updates leading up to, during and just after the CMA Music Festival.
Visit the brand's
Facebook page
and
Twitter
feed
for up-to-the minute details, celebrity sightings and more.
About
CAO Cigars
CAO cigars
are produced by General Cigar Co. Inc., a division of Scandinavian Tobacco
Group, which manufactures and markets handcrafted cigars for the premium
market. Committed to delivering cigars of the finest quality, General Cigar's
skilled artisans produce Macanudo®, Cohiba®,
La Gloria Cubana®, Punch®, CAO, Partagas®, Hoyo de Monterrey®,
Excalibur® and several other leading premium brands in the company's Dominican,
Honduran and Nicaraguan factories. In addition, the company cultivates
proprietary tobacco which is used exclusively in its blends. General Cigar also
operates Club Macanudo®, a cigar bar in New York City. Based in Richmond, VA,
General Cigar sells through tobacconists nationwide and also exports select products
to 62 countries. For more information, please visit
www.cigarworld.com
.
About CMA Music Festival
CMA Music Festival is the
Ultimate Country Music Fan Experience – a celebration of America's music – that
takes over downtown Nashville June 7-10 with non-stop concerts on multiple
stages with a vast and varied roster of artists. CMA Music Festival is a
four-time winner of the International Entertainment Buyers Association's LIVE!
Award for Festival of the Year (2004, 2006, 2008, 2010).
About Two Foot Fred
Fred Gill, aka Two Foot Fred, gained national attention for his work with
Big & Rich as part of the MuzikMafia. As an emcee and performer, he has
toured extensively with the duo and has performed onstage with artists such as
Kenny Chesney, Larry the Cable Guy, Tim McGraw and Brooks & Dunn and was a
cast member on CMT's
MuzikMafia TV
. He has also appeared on CMT's
Gone
Country
and
Barely Famous: The Warren Brothers
. His other TV work
includes appearances on
Las Vegas
,
Dick Clark's Rockin' New Year's
Eve
,
Late Night with Conan O'Brien
,
Jimmy Kimmel Live
and
Blue
Collar TV
, among others. Fred's wild rise to fame has been chronicled in
his inspirational autobiography titled "
Two
Foot Fred: How My Life Has Come Full Circle.

For more information, please visit
www.twofootfred.com
.
® Macanudo, Cohiba, La Gloria Cubana, Punch, Partagas,
Hoyo de Monterrey, Excalibur and Club Macanudo are registered trademarks of
General Cigar Co. Inc.
Source: This press release and photos were sent by General Cigar Company. Cigar Coop prints press releases as a free service to all cigar companies.