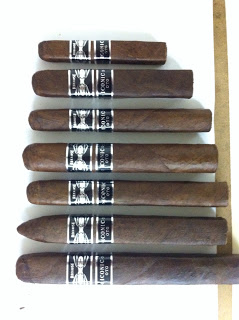 Last week, we sampled a preview of the debut cigar by Iconic Leaf Cigars – the Recluse. Today, information on the banding of the cigars was sent.
The photo to the left shows seven of the ten frontmarks that will be a part of the launch.
According to the web-site, Iconic Leaf Cigars was founded by "two very well known and well respected
legends in the cigar
industry" who have chosen to keep their
identities private. The company is actually led by someone named J.R.
Dominguez who is the son of cigar maker Jose Dominguez. The cigars are
produced at a factory called Leyendas Cubanas in the Dominican Republic
with production supervised by Don Jose Rafael.
As for the Recluse Cigar, the company prides itself that the cigar goes
through eight fermentation cycles. The cigars are rolled in true
entubar fashion. This is a method of rolling cigars that comes from
Cuba which involves a "tubing" process – namely taking each filler leaf
and rolling it into a tube instead of folding the leafs. After the
filler leaves are tubed, a binder is applied. The cigar is constructed
in a box-press fashion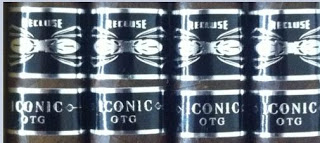 Click here to read our pre-release write-up of the Iconic Release Recluse.