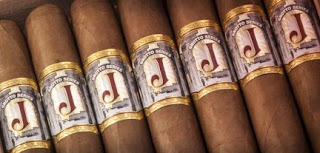 The new Lancero Limitado shape joins the J. Grotto Series Reserve
brand of boutique cigars from Ocean State Cigars,
and is intended only for retailer events
"Although our J. Grotto Series Reserve premium cigars rest for six months after leaving the rolling tables," reports Paul Joyal, president of Ocean State Cigars, "we test-smoked samples of our new 7-3/8″ x 40 Lancero Limitado that had only 10 weeks of aging. We were amazed at the blend of flavors and aromas in this new cigar. It is nothing less than rich and harmonious, delivering toast and smooth caramel flavors. This cigar may well become our signature cigar."
This latest addition to the J. Grotto Series Reserve line is a limited-availability cigar, at only 1,000 cigars, thus its name: "J. Grotto Series Reserve Lancero Limitado."
The Lancero Limitado will be offered only at retailer events that feature J. Grotto cigars. Each participating retailer will be allocated four boxes (forty cigars) of Lanceros Limitados per event. Packaging it in only ten-cigar boxes, and in limited- per-event quantities, "will add to its cachet," says Joyal. The boxes will be a smaller rendition of the same high-quality cedar boxes and lush artwork as seen in the rest of the line.
The cigars are hand made, using three-year aged select tobaccos … a Nicaragua-grown Criollo 99 wrapper and Criollo 98 binder, plus a filler of Honduran-grown ligero and Jalapa leaves. The Lancero Limitado joins four existing J. Grotto Reserve shapes … Gran Corona (5-5/8″ X 46), Gran Robusto (5″ X 52), Gran Toro (6″ x 52), and Gordo 6″ x 60. The Lancero Limitado is full-bodied, but tempered by the aging and balanced blending, yielding a sophisticated smoke. Like all J. Grotto cigars, it is entubado-bunched for smooth, easy draw and uniform burn. Its pigtail-capped head, gives it a distinctively traditional look.
States Joyal, "Historically, Lanceros have appealed to only the few. We think the performance of this cigar, especially its tamed power and opulent flavor, will awaken a larger audience to this elegant shape." The cigars will be ready in August for J. Grotto retailers to schedule in-store events with Joyal. Manufacturer's suggested retail pricing for the new J. Grotto Reserve Lancero Limitado is $8.95.
Source: The press release
was sent from Dale Scott who represents Ocean State Cigars. Cigar Coop prints
press releases as a free service to all cigar companies.