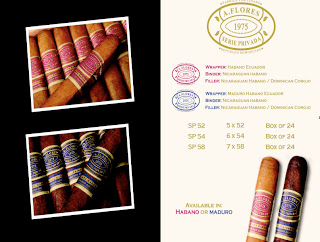 (Miami, FL) – July 28th, 2012: PDR Cigars USA, one of the industry's premier boutique cigar makers are excited to announce the release of the A. Flores Serie Privada, which will debut at this year's IPCPR trade show in Orlando, FL on August 2nd.
The year 1975 signifies the year that brand owner and master blender Abraham Flores was born. In only a few short years in the industry Flores has grown to be one of the industry's most sought after cigar makers having put out stellar premium boutique lines such as; PDR Small Batch, PDR 1878, and PDR Reserva Superior. Additionally Flores has made cigars for a myriad of companies which include Ghurka Cigar Group, Cigars International, Famous Smoke Shop, Thompson Cigars, La Palina Cigars, Primer Mundo Cigar Company, and Herrera Cigars to name a few. With an 80 year history the PDR Cigars factory only employs the most experienced rollers and craftsmen. This commitment has served them well. Now in its 8th year of independent operation the PDR Cigars factory has established a solid footing in the premium boutique cigar arena
"I am extremely proud to have the opportunity to build on the legacy of the exceptional cigar makers that have been making cigars here in the Dominican Republic for decades," said Abe Flores, President of PDR Cigars. "I am very excited about bringing this new line to the market bearing my name. We've taken special care to select the finest tobacco and create an exceptional blend profile that we feel today's cigar enthusiast will truly appreciate."
As an addition to the current line-up the A. Flores Serie Privada will be released with a Habano Ecuador wrapper and a Maduro Habano Ecuador wrapper. Both cigars will be comprised of Nicaraguan Habano binders as well as Nicaraguan Habano & Dominican Corojo filler. The Habano Ecuador is a creamy medium bodied smoke with great complexity while the Maduro is a rich medium to full bodied smoke with a bold profile of subtle spice and light sweetness.
"I felt that it was important that the line was representative of the vitolas that I enjoy smoking and offers the consumer a great smoking experience in terms of blend, packaging, and pricing," Said Flores.
The A. Flores Serie Privada are boxed pressed beauties available in 24 count boxes featuring three vitolas: 5×52 Robusto, 6×54 Toro, and a 7×58 Churchill, which is in the round. The line carries an MSRP range from $9.75 to $12.75 and will be featured at the PDR Cigars booth at the IPCPR convention in Orlando next week.
PDR Cigars has certainly solidifies itself as one of the premier boutique cigar contingents on the scene and will be expected to produce solid offerings under the PDR banner and in the private label arena for years to come. More information can be found on PDR Cigars at www.pdrcigars.com.
Source: This press release was sent from PDR Cigars.  Cigar Coop will post press releases as a free service to all cigar companies and organizations that choose to send Cigar Coop press releases.