REINADO® Unveils the Grand Empire Reserve at the 80th Annual IPCPR Convention and International Trade Show
Industry participants eagerly await the Grand Empire Reserve from REINADO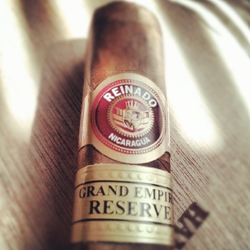 Grand Empire Reserve – Image linked from pr.com
Oradell, NJ, July 03, 2012 –(PR.com)– Following the success of the 92 rated Petite Corona known as the Habanito and the 91 rated Torpedo, REINADO will unveil the Grand Empire Reserve at the 80th Annual IPCPR Convention and International Trade Show in Orlando, Florida, in August, 2012.
The Grand Empire Reserve is a box pressed Robusto that incorporates a select habano maduro wrapper and an additional aged Nicaraguan filler which leverages REINADO's signature fermentation process to provide even greater depth, richer undertones, and enhanced overall complexity for both the casual and the distinguished cigar smoker.
"The flavor profile of the Grand Empire Reserve was developed after extensive sampling to deliver a truly exceptional blend," said Antonio Lam, owner of Cubanero Enterprises. "We believe the flavors and balanced strength developed through extending REINADO's unique fermentation process along with the inclusion of the aged Nicaraguan filler will distinguish the Grand Empire Reserve from all other cigars on the market," said Lam.
A single size called Elegidos meaning "chosen" is scheduled for release in August, 2012 followed by additional sizes.
Initial Specs:
• Size: 5 x 55 (Box Pressed)
• Wrapper: Nicaraguan Select Maduro
• Binder: Nicaragua
• Filler: Nicaragua
• Price: $9.95/cigar – 20ct boxes
"As demonstrated through the REINADO core product line and the introduction of the Grand Empire Reserve, we are dedicated to innovation and offering smokers quality choices of highly rated cigars," said Lam.
The Grand Empire Reserve will be available through select retailers and, on a limited basis, directly through REINADO.
Please visit REINADO Cigars at booth 0640 at this year's IPCPR in Orlando.
More Information
To learn more, obtain samples, or carry the REINADO brand, visit us at http://www.reinadocigars.com/ or contact Cubanero Enterprises at:
REINADO Cigars
201.893.1953
antonio.lam@reinadocigars.com
About REINADO Cigars
REINADO Cigars creates uniquely fermented handmade premium boutique cigars. REINADO has received high ratings within the cigar industry and continues to grow its portfolio of premium cigars. Our commitment to delivering exceptional and quality driven products to our clients are of the highest priority today and in the future.

Contact Information
Antonio Lam
201.893.1953
www.reinadocigars.com
Source: This press release was printed with permission from Antonio Lam of Reinado Cigars. Cigar Coop will print press releases as a free service to all cigar companies that choose to send or notify Cigar Coop of press releases.
Note: Cigar Coop was given the opportunity to sample a pre-release of the Reinado Grand Empire Reserve. Click here for our thoughts and impressions of this forthcoming release.