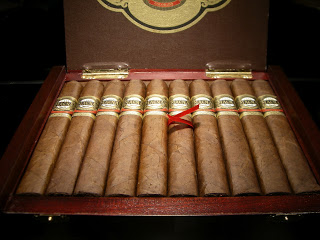 Casa Magna Colorado Box-press
At the 2012 IPCPR Trade Show, S.A.G Imports showcased the new box-pressed line extensions to its popular Casa Magna Colorado line. These line extensions are the first box-press vitolas that have been added to the Casa Magna Colorado line.
The Casa Magna Colorado line is a collaboration between Manuel Quesada and Nestor Plasencia (Click here for a short video on how this collaboration came out to be) When it was released, the Casa Magna took the cigar world by stormed and (the Robusto vitola) was crowned the #1 Cigar of the Year by Cigar Aficionado. Since then there have been several line extensions to the Casa Magna Colorado.
Blend Profile
Like the original Casa Magna Colorado, the box-press line extensions are Nicaraguan puros.
Wrapper: Nicaraguan Cuban-seed
Binder: Nicaraguan Cuban-seed
Filler: Nicaraguan Cuban-seed
Vitolas Available
There are three box-press vitolas being added to the Casa Magna Colorado line:
Short Robusto (Box-press): 4 1/4 x 54
Toro (Box-press): 6 x 50
Gordo Real (Box-press): 6 1/4 x 60
There are currently 12 round vitolas that are a part of the line:
Gigantor: 6 x 64
Extraordinario Salomon 7 x 58
Belicoso 6 1/4 x 54
Gran Toro 6 x 58
Churchill 6 7/8 x 49
Torito 4 3/4 x 60
Robusto 5 11/2 x 52
Corona 6 x 46
Pikito 4 3/4 x 42
Diadema 6 3/4 x 54
Lancero 8 1/2 x 40
Sancho (Tins of 3) 4 ¼ x 60