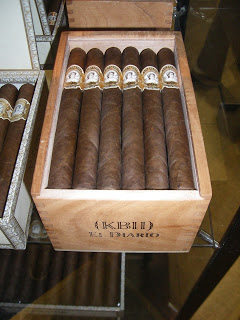 La Palina El Diario KB II
La Palina Cigars launched a seventh vitola to its El Diario line. This is a Corona Gorda and is officially called the La Palina El Diario KB II (short for Kill Bill II).
Earlier this year, a sixth vitola was added to the El Diario line called the La Palina El Diario KB. The KB was a petit corona. The KB stands for Kill Bill. The name came about when
this past fall, La Palina owner Bill Paley said he was unable to finish
the first prototype of the petit corona of the El Diario. As a result the name "Kill Bill" was born. The KB II goes a step further offering a longer smoke in the same ring gauge as the KB.
When El Diario was launched this
past summer, this was intended to be a core line for La Palina to be an
everyday smoke ("diario" means daily). The El Diario also provided a
stronger and more full-bodied offering into La Palina's portfolio. The El Diario was our 2011 Cigar of the Year. The original KB scored a 95 in our ratings earlier this year.
While the blend remains the same, the La Palina El Diario KB extension goes a step further making it a full strength and full-bodied. Both the KB and KB II use the same blend as the original El Diario, however the smaller ring gauge adjusts the ratios of the tobaccos int he blend.
Blend Profile
Wrapper: Honduran Corojo '99 Rosado
Binder: Honduran Criollo '98 (Double binder)
Filler: Nicaraguan Corojo '99 and Criollo '98
Vitolas Available
The KB II is sold in boxes of 30. The original KB was originally intended to be sold in packs of four.
KB II: 6 x 40
KB: 4 1/4 x 40
Churchill: 7 x 50
Torpedo: 6 1/8 x 52
Gordo: 6 x 58
Toro: 6 x 50
Robusto: 5 x 52