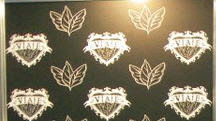 When it comes to Viaje Cigars, it's founder Andre Farkas does a masterful job at building a mystery around his company what's coming next at his company. At the 2012 IPCPR, we recently had an opportunity to have an extended conversation with Farkas and discuss his what he is launching at the 2012 IPCPR. Farkas also gave us the opportunity to look into the crystal ball at some of his company's plans for the remainder of the calendar year. We had an opportunity to spend almost a full hour with Farkas and found him to be a very personable person. We also found him to be a very passionate person – especially when it comes to cigars, his company, and the industry.
2012 IPCPR Release Plans
We have covered these in several other articles being posted.
Viaje Honey and Hand Grenades (New Launch)
Viaje 5th Anniversary (New Launch)
Viaje Satori 2012 (2012 Release)
Viaje Oro Collector's Edition (Special Vitola)
Viaje Oro Release (Line extension and small batch release)
Viaje Skull and Bones
Farkas told us there will be a new release of the Skull and Bones around Halloween. This will be a new edition of the Mystery which he described as "completely different".
Farkas also gave us a little background behind why there is the white label and red label versions of the Skull and Bones. After releasing the Skull and Bones Daisy Cutter (white label), someone challenged Farkas by saying "that was your best shot at strength". Farkas responded by creating the red label series which was intended to be an even stronger version of the Skull and Bones.
Farkas did say the double capped versions of the Fat Man and Little Boy are done as there were too many issues with those capped footers. Farkas did not rule out bringing those back, but without the capped footer.
Viaje WLP Stuffed Turkey 2012
The Viaje WLP Stuffed Turkey made its debut in 2011 and provided a 60 ring gauge cigar in the form of a 5 x 60. It also was meant for a seasonal release around Thanksgiving. This year, Farkas has added a new twist for the 2012 release of the WLP Stuffed Turkey. There will be two blends released – White Meat and Dark Meat. White Meat will be a natural wrapper version of the WLP Stuffed Turkey and Dark Meat with be maduro wrapper version.
The WLP stands for White Label Project and is used for experimental limited releases by Viaje.
Viaje Holiday Blend 2012/ Candy Cane
Farkas has said the Viaje Holiday Blend will return with its fourth annual release – the Viaje Holiday Blend 2012. This will be released around the time of Christmas season. There also will be a new twist with the Christmastime release as Farkas will be releasing the Viaje "Candy Cane" When we asked Farkas if this would be a barber-pole, he did say something along the lines of no comment either way, so there are still some things to remain a mystery.
Viaje Super Shot 2013
Farkas did say the Super Shot series will return in 2013 with two sizes. Overall he was very pleased with the reception of the 2012 release.