Assessment Updates will be posted on this web-site to: 1) Assess "pre-review" cigars that were not given a rating or score (typically pre-release cigars); 2) Provide numeric ratings to cigars previously assessed prior to the implementation of the numeric scoring system; 3) Provide a re-assessment and re-score of a previously assessed/score cigars. Today, we provide an assessment rating and score to the Tatuaje Little Boris.  This was a pre-release cigar we did a pre-review
for back in June, 2012.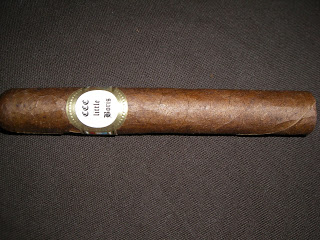 Tatuaje Little Boris
The Tatuaje Little Boris is a smaller version of a limited edition Tatuaje cigar called the Tatuaje Boris.   The Boris was the first and only release of the Actor's Series.  It was launched as a tribute to actor Boris Karloff.  In 2012, Tatuaje launched their "Little Monsters" series. This series is a sampler of ten cigars consisting of two cigars that are smaller versions of Tatuaje's annual Monster Series releases. The Little Boris is not a part of this sampler (after all the original Boris was not a part of it).  It turns out that the Little Boris was provided as a retail exclusive to  Jeff Borysiewicz's Corona Cigar Company in Orlando, Florida. These cigars quickly sold out this past summer. At Cigar Coop, we were proud and feel very fortunate to have delivered the first pre-release review anywhere on the Little Boris.  This cigar was a home run.The production releases did not disappoint either as this proved to be one of the best cigars smoked in 2012.
The Little Boris consists of an Ecuadorian Sumatra wrapper over Nicaraguan binder and filler.  The cigar measures 5 1/2 x 49 – smaller than the original 7 1/8 x49 Boris.   The banding uses the red, white, blue, gold, and black "Tatuaje Exclusive Series" banding that has been seen on cigars such as the Tatuaje Federal Cigar 90th Anniversary.
The flavors of the Tatuaje Little Boris are outstanding – consisting of: nut, pepper, natural tobacco sweetness, cedar, and coffee.  The sweetness seemed much better developed on the production cigars I smoke.  I also detected some cream notes that I did not detect on the pre-release sample.  Like the original pre-release samples, the flavors are medium to full-bodied.  The production cigars I smoked had a little more of a kick to them, and I had them as medium to full strength (as opposed to medium on the pre-release).  The strength and body are very well balanced.
The construction is flawless. It has an outstanding burn and draw producing a nice tight white ash.
The Tatuaje Little Boris is one of our highest scoring cigars this year.  Because it is not a new blend, it won't be eligible for our 2012 Cigar of the Year countdown, but definitely is in the running for Best New Vitola of 2012.
Click here to read our pre-release review of the Tatuaje Little Boris.
Assessment: Memorable
Score: 95