Assessment Updates will be posted on this web-site to: 1) Assess "pre-review" cigars that were not given a rating or score (typically pre-release cigars); 2) Provide numeric ratings to cigars previously assessed prior to the implementation of the numeric scoring system; 3) Provide a re-assessment and re-score of a previously assessed/scored cigar. Today, we provide a numerical score to the VegaFina Jose Seijas 2011. This was a cigar we assessed in December, 2011.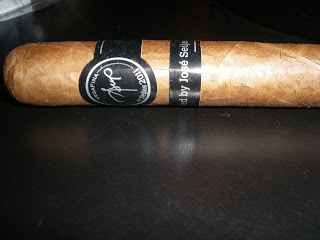 VegaFina Jose Seijas 2011
The VegaFina Jose Seijas 2011 is a significant cigar for a couple of reasons. First it was a cigar that has re-invigorated Atladis' VegaFina line (releases of the VegaFina Sumum 2010 and VegaFina Fortaleza 2 to the American market would follow). The other reason is that it was one of the final releases by master blender Jose Seijas' tenure with Altadis.
The VegaFina Jose Seijas 2011 was a limited production cigar – only 2500 boxes of 10 were produced. The cigar features a San Andres Criollo wrapper over Dominican binder and filler. The cigar comes in one size, a 5 x 56 Gran Robusto.
Since I originally assessed the VegaFina Jose Seijas 2011, I have found this blend stabilized quite a bit. The original VegaFina Jose Seijas 2011's had some sour notes to it, but I've found with some age the flavor profile has improved greatly. The cigar has some unique flavors highlighted by a raw honey taste. I also detected notes of nut, cedar, pepper, citrus, and wheat. The flavors are medium to full in body. From a nicotine perspective, I originally had this as medium strength, but the latter smokes have been more on the medium to full strength area of the spectrum. The cigar was advertised as a more fuller version of the traditionally milder VegaFina line – and this was indeed the case.
The burn quality also improved greatly with some age. The draw has been consistently excellent on this cigar.
Click here for the original assessment of the VegaFina Jose Seijas 2011.
Assessment: Memorable
Score: 91