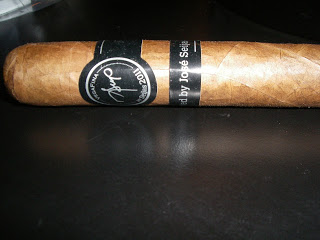 VegaFina Jose Seijas 2011
A few weeks ago, Altadis announced a new blend being added to its VegaFina cigar line   This cigar includes the name of one of its master blenders, Jose Seijas. Seijas presides over the famous Tabacalera de Garcia factory in the Dominican Republic. VegaFina represents one of the cigar lines that has come out of that factory. VegaFina's have done very well in Europe – especially Spain.  They made their way to the United States a few years ago, and have provided a value-priced milder smoke for cigar
enthusiasts.  This limited release new cigar, called the VegaFina Jose Seijas 2011 has more in terms of strength and body than the core line.  Overall, I found it to be a satsifactory smoking experience.
As mentioned above, this is meant to be a limited release cigar.  Only 2500 boxes of 10 are being produced for a total of 25,000 cigars.  At this time, it is only being offered in a single vitola (a Corona Gorda).  The cigar is offered at an attractive price point – $6.50 SRP (keeping somewhat close with the value-price point of the VegaFina brand).   Needless to say, the cigar will be limited to certain Altadis dealers – although I am seeing them pop up online.
Let's break down the VegaFina Jose Seijas 2011 in more detail:

Blend Profile
The most intriguing thing of the blend is the use of a San Andres Criollo wrapper.  I cannot recall havng a cigar with this wrapper before, so I was intrigued.   This wrapper surrounds some trademark Seijas Dominican filler and binder.
Wrapper: San Andres Criollo
Binder: Dominican
Filler: Dominican
Vitolas Available
As mentioned above, a single vitola is offered – a Corona Gorda.  This is basically a 5 x 56 Gran Robusto.   This happens to be one of my favorite vitola sizes, so I considered it ideal.
Preparation for the Cigar Experience
For my VegaFina Jose Seijas 2011, I placed a straight cut into the cap and commenced with the pre-light draw.  I normally do not factor the pre-light experience into my cigar assessment, but this one was very good.   The dry notes provided an interesting honey sweetness to it.  I didn't know what to expect from this blend, so this was a positive experience.  It was now on to fire up my VegaFina Jose Seijas 2011 and see what the cigar would deliver in the smoking experience.
Flavor Profile
After lighting my VegaFina Jose Seijas 2011, I was treated to a nice combination of cedar spice and honey sweetness.  I also was able to detect some notes of honey and wheat in the background.  By about the one third point, the nut flavors moved to the forefront.  At the same time, I noticed a transition of the honey flavors to more of a citrus taste.  The cedar spice remained in the background.
As the cigar crossed into the second half of the cigar experience, the citrus notes joined the nut flavors.  The cedar spice was still present in the background, but I could detect more classic black pepper through my nostrils.  The citrus notes seemed more grapefruit-like rather than the usual orange citrus I pick up on many cigars.  One negative was there were times where the citrus was a little more sour than at other times.
As the cigar experience moved into the last third, there were times the honey sweetness would re-emerge from time to time.  The cedar spice also transitioned to more of a classic pepper spice.  The spice would be the flavor in the forefront toward the finish.  Overall, except for some of the sour notes from time to time, this cigar had a nice smoothness to it.   The finish was spicy, but not harsh.  The nub finished a little softer and warmer than I would prefer.
Burn and Draw
It wasn't the most ideal burn I got on the VegaFina Jose Seijas 2011, but it wasn't a bad one either.  It burned at a nice rate – although toward the end it burned a little warm.   The cigar need require touch-ups to burn straight, but for the most part it did the trick.   The draw was outstanding – making the Seijas 2011 a pleasure to smoke.
Strength and Body
As mentioned above, the VegaFina Jose Seijas 2011 has more strength and body than the current core VegaFina offering by Altadis.   From a strength perspective, the Seijas 2011 is not going to overpower you.  It is your classic medium-strength cigar from a nicotine perspective.   The Seijas 2011 did offer a lot more in terms of depth of the flavors than the core VegaFina offerings.   This cigar easily falls into the medium to full-bodied area of that spectrum.
Final Thoughts
Except for some of the sour notes (and to a lesser extent the burn issues), this was not a bad cigar.  It's only been out for a short time, but I wonder if a little more age on these cigars will get rid of some of those issues or not.  Overall, I found this to be a different smoke, and I do think the San Andres Criollo wrapper holds some promise for other blends.  It's a nice cigar to gravitate novice cigar enthusiasts who might be used to milder smokes into something a little stronger and a little fuller.   As for experienced cigar enthusiasts, I think this will only fit a profile for those who like a cigar with the flavor profile I described above.  From a personal standpoint, I would smoke this again – and most likely will follow my own advice and wait for a little more age on this one.
Summary
Burn: Good
Draw: Excellent
Complexity: Medium
Strength: Medium
Body: Medium to Full
Assessment: Nice to Have
Source: The cigars for this assessment were purchased from Elite Cigar Cafe in Addison, Texas