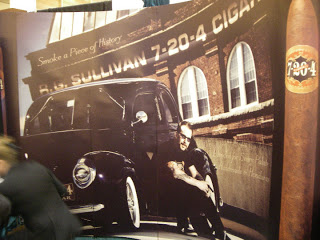 At the 2012 IPCPR Trade Show, showcased two new upcoming blends being added to the portfolio of Kurt Kendall's 7-20-4 Cigars' portfolio. We recently previewed one of these blends – K.A. Kendall's Spider. Today, we preview the other new blend, the 7-20-4 Hustler. Some attention is sure to come to the Hustler as this will be a barberpole wrapper launch.
In 2010, Kendall brought his core line 7-20-4 cigar to the IPCPR Trade Show in New Orleans. The cigar proved to be one of the revelations of the show and helped put 7-20-4 Cigars on the map. This was followed up late in 2011 with the 7-20-4 1874 Series.
Kendall's 7-20-4 Cigars has focused around bringing back old brands of cigars
with a touch of nostaglia. In fact the company's slogan is "Smoke a Piece of History". The Hustler represents an old brand that has been resurrected by Kendall. In addition, other old lines resurrected include the 7-20-4 and upcoming K.A. Kendall Spider.
There have not been many barberpole releases by major (or significant boutique) manufacturers over the past few years.. A barberpole cigar uses two different wrappers of different colors to create a "candy cane/barberpole effect) This might be interesting to see if the release of the Hustler leads the way of a return of this trend.
The 10/9/12 edition of Cigar Insider detailed some information about the architecture of the 7-20-4 Hustler.
Blend Profile
7-20-4 Cigars are well known for their multinational blends. The 7-20-4 Hustler is no exception.
Wrapper: Brazilian Mata Fina, Ecuadorian Connecticut
Binder: Brazilian
Filler: Nicaraguan
Vitolas Available
The 7-20-4 Hustler will be launched in three sizes:
Robusto: 5 x 52
Toro: 6 x 54
Gordo: 6 3/8 x 58