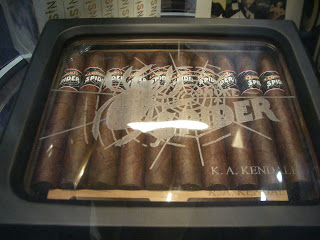 K.A. Kendall's Spider (Cigar Coop photo from
the 2012 IPCPR Trade Show)
At the 2012 IPCPR Trade Show, Kurt Kendall of 7-20-4 cigars was showcasing new blends to add to his portfolio. One of those new cigars is K.A. Kendall's Spider. Recently, some additional information was made available in the 10/9/12 edition of Cigar Insider on the cigar.
Two years ago, Kendall's 7-20-4 cigars was one of the revelations of the 2010 IPCPR Trade Show with his core line 7-20-4 cigar. He followed it up late in 2011 with the 7-20-4 1874 Series. Kendall 's line has focused around bringing back old brands of cigars with a touch of nostaglia. The Spider is another old line resurrected by Kendall.
Kendall will also be launching a barberpole cigar called the Hustler. This will also be another resurrected old brand of cigars.
Here are some of the particulars of the Spider:
Blend Profile
In addition to being a nostalgic cigar, Kendall has also become a master of the multinational blend in his cigar portfolio. The Spider is no exception.
Wrapper: Nicaraguan
Binder: Ecuadorian
Filler: Honduran, Colombian
Vitolas Available
The Spider is being launched in a single vitola – a 6 x 52 Toro.
Update (6/26/13): Blend information and size updated via company press release.