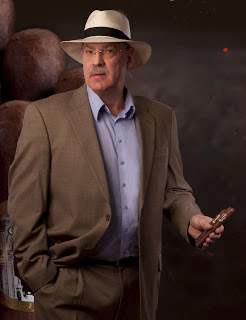 Following a three-month production
delay, Paul Joyal
announces new Lancero Limitado shape has joined
the
J. Grotto Reserve boutique premium cigars,
available only at retailer
events
Ocean State Cigars' new Lancero Limitado shape (7-1/2″ x 41) is now available for shipment to retailers, following a three-month delay. Tobacconists can receive shipments of J. Grotto Reserve Lancero Limitados in time for holiday shopping. The boutique premium cigar was planned to debut and ship to retailers at IPCPR time, but suffered delays at Fabrica de Tabacos Raices Cubanas, the Honduran manufacturer. According to Paul Joyal, Ocean State Cigars' founder, "The factory is suffocating under success, having been swamped with orders, due to the reputation they've earned for quality and performance. It's understandable, based on the ratings for their core client, Alec Bradley Cigars, as well as our and other private-label brands . The good news is that they're catching up with demand. Our present cigars are now flowing, with a new J. Grotto cigar set to be announced soon."
The Lancero Limitado parejo joins the four existing shapes in the J. Grotto Reserve line, and shares the same blend, which has garnered top ratings since their introduction last year. The filler is Honduran-grown ligero and Nicaraguan-grown Jalapa, while the binder and wrapper are Honduran-grown Criollo 98 and 99, respectively. The cigars are entubado-bunched, and the heads have a traditional Cuban pigtail. Joyal reports the new shape promises to be the company's signature cigar. "Sampling this initial shipment," he says, "has shown them to be incredibly rich and complex, more so than any of our other cigars. Their power underpins their equally full flavor profile, and doesn't intrude or overwhelm the palate. For the connoisseur, the predominant flavors are toast, earthiness and chocolate, with an abundance of more subtle notes."
With a very limited production of only 1,000 cigars, the Lancero Limitado is exclusively for events hosted by J. Grotto retailers. Only four boxes of ten cigars are available per event. Their manufacturer's suggested retail price is $7.95.
Source:
The press release was sent from Dale Scott who represents Ocean State Cigars. Cigar Coop prints press releases as a free service to all cigar
companies that choose to send Cigar Coop press releases.