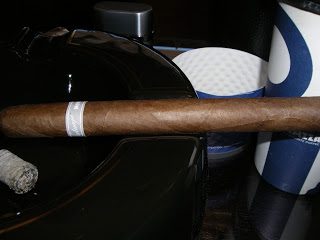 #10: Tatuaje Mummy
Our selection for #10 Cigar of the Year is the Tatuaje Mummy/Mini Mum blend. This is not considered to be a "tie"on the cigar of the year countdown as our strategy has been to rank the blend as a whole (although we do pick our favorite vitola at the end). The Mummy/Mini Mum blend is a Nicaraguan puro based of the Tatuaje Private Reserve (Black Label) blend. The Mummy marked the fifth installment of Tatuaje's popular Monster Series. It was actually preceded by the Mini Mum which was released earlier as a part of the Little Monsters series.
The Tatuaje Mummy/Mini Mum is Tatuaje's second entry on the 2012 Cigar of the Year countdown. It marks the second year in a row the Monsters Series has made the countdown (The Tatuaje Wolfman was #11 last year) and the third consecutive year Tatuaje has landed a spot on the countdown. For those also keeping score, this is the sixth blend from the My Father Cigars factory on the 2012 Cigar of the Year countdown. Finally the Mummy/Mini Mum is the second disclosed Nicaraguan puro and third disclosed single country puro on this year's countdown.
#10: Tatuaje Mini Mum
The flavor profile of the Mummy blend will yield grass, pepper, citrus, caramel, pepper, and floral. The Mini Mum had more spice, but also had quite a bit of complexity providing a similar profile consisting of grass, pepper, baker's spice, cream, nut, cherry, and floral.
The flavors on the Mummy start out medium-bodied and progress to full while on the Mini Mum they start out medium to full-bodied and progress to full. The strength follows a similar pattern: For the Mummy – medium strength to start progressing to full; for the Mini Mum medium to full strength progressing to full. We found the Mummy to be a little "amp'd down" and smoother than the Mini Mum, thus we gave it a slight edge.
Click here for our assessment of the Tatuaje Mummy. Click here for our assessment of the Mini Mum.
Blend Profile

Wrapper: Nicaraguan Sun Grown Criollo
Binder: Nicaraguan
Filler: Nicaragua

Vitolas Available

Mummy: 7 3/4 x 47
Mini Mum: 5 3/4 x 42
Recommended Vitola: Mummy