Assessment Updates will be posted on this web-site to: 1) Assess "pre-review" cigars that were not given a rating or score (typically pre-release cigars); 2) Provide numeric ratings to cigars previously assessed prior to the implementation of the numeric scoring system; 3) Provide a re-assessment and re-score of previously assessed/score cigars. Today, we provide a numerical score to the Viaje Late Harvest Edition 2011. This was the original release to the Late Harvest blend and was a cigar we assessed back in September, 2011.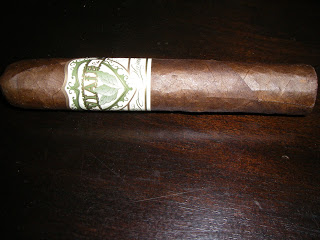 Viaje Late Harvest 2011
At the 2011 IPCPR Trade Show, Viaje launched its Late Harvest Estate Grown series. The Viaje Late Harvest Estate Grown addition borrows a concept from the wine industry. In the winemaking process, a late harvest involves lengthening the time grapes are left on the vine. The Viaje concept involves doing the same with tobacco leaves – not picking them until the final primings. By doing this, the leaves are exposed to additional sun following the picking of the first primings. The end result is a thicker leaf that has additional oils and more flavor to it. For this assessment update, we revisit the LH550 size (robusto) from the original 2011 release.
From a flavor profile standpoint, we found this cigar to change quite a bit from when it was first released 15 months ago. The Late Harvest 2011 now had much more of an herbal grass component and less caramel sweetness than it did when first released. I still was able to pick up notes of nut, cocoa, and cinnamon – notes I found when this cigar was first released. The cocoa notes seemed to surface earlier than when we first smoked this. The cinnamon component was much less a factor.
The strength to the Viaje Late Harvest Estate Grown pretty much stayed medium from start to finish while the body was also medium bodied. Both the strength and body seemed amp'd down from when this was first smoked. The burn and draw were excellent on this current smoke.
My preference was the version smoked 15 months ago, but this smoke still provided a very good experience and should appeal to a good segment of cigar enthusiasts.
Click here to read our original assessment of the Viaje Late Harvest Estate Grown 2011 cigar.
Assessment: Nice to Have
Score: 90
Source: The cigars for this assessment update were purchased from Outland Cigars in Charlotte, North Carolina.