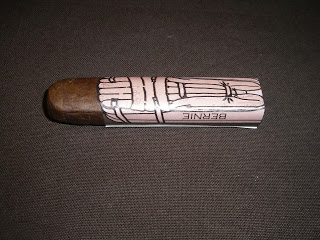 Hall of Fame NHL goaltender Bernie Parent announced on his web-site that he is collaborating with Rocky Patel Premium Cigars on a cigar. The cigar will be called Rocky Patel BSB #1 Bernie Parent Cigar. The BSB is a reference to his former team, the Philadelphia Flyers' nickname -"Broad Street Bullies".
This marks the second sports celebrity to collaborate with Rocky Patel Premium Cigars on a cigar. At the 2012 IPCPR Trade Show, Rocky Patel Premium Cigars announced the Rocky Patel HR500 cigar – a cigar done in collaboration with baseball great, Gary Sheffield. On the August 11, 2012 Kiss My Ash Radio program, Nimish Desai, Executive Vice President of Rocky Patel Premium Cigars indicated this was the first of several projects the company would be doing with various sports celebrities.
Parent said the project was developed by Nish Patel. Parent goes on to describe the cigar as a medium to full-bodied blend. He said it will contain banding that is in the shape of goalie pads. The cigars will also be packaged in an orange and black box.
As for the cigar itself, the only details are that the cigar will have an Ecuadorian wrapper. Parent also said the plan is for 500 boxes to initially be launched.
Parent said the cigar will be in stores next week (week of December 10th). An event is scheduled in Newtown Township, Pennsylvania at the Green Parrot to launch the cigar. Ned's Cigars in Newtown Township will also be teaming up for the event.
Parent played 13 seasons in the NHL for the Boston Bruins, Toronto Maple Leafs, and Philadelphia Flyers. It was with the Philadelphia Flyers where he helped lead them to Stanley Cup Championships in 1973-74 and 1974-75. In each of those seasons he won the Vezina Trophy (Best Goaltender) and Conn Smythe Trophy (MVP in the playoffs). Parent remains a popular figure in the Philadelphia metro area to this day.