Assessment Updates will be posted on this web-site to: 1) Assess "pre-review" cigars that were not given a rating or score (typically pre-release cigars); 2) Provide numeric ratings to cigars previously assessed prior to the implementation of the numeric scoring system; 3) Provide a re-assessment and re-score of previously assessed/score cigars. Today, we provide a numerical score to the PDR 1878 Reserva Dominicana Capa Habana. This was a cigar we were fortunate enough to smoke a soft release launch of in May, 2011, and provided an initial assessment rating in August 2011.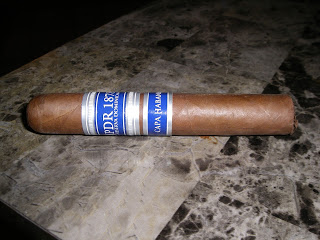 PDR 1878 Reserva Dominican Capa Habana
The PDR 1878 Reserva Dominicana Capa Habana (or sometimes called the PDR 1878 "Blue Label") was the fourth and final cigar in PDR Cigars' PDR 1878 series. The Capa Habana is one of two Dominican puros introduced in the PDR 1878 series (the other being the PDR 1878 Reserva Dominicana Capa Oscura – or sometimes called the "Holiday Blend"). This is a blend that has continued to get better with age and remains a staple of the PDR Cigars' family.
When we first smoked the PDR 1878 Reserva Dominicana Capa Habana, we smoked a soft launch of this cigar – and at the time a lot of information was not disclosed. Since that point, we have learned quite a bit, so here is our usual cigar architecture profile:
Blend Profile
Wrapper: Dominican Habano
Binder: Dominican Habano
Filler: Dominican Criollo '98 and Dominican Corojo


Vitolas Available
Corona: 5 1/4 x 44
Robusto: 5 × 52
Double Robusto: 5 1/2 × 54
Toro: 6 × 52
Torpedo: 6 1/2 × 52
Lancero: 7 1/4 × 38
Churchill: 7 × 54
Double Magnum: 6 × 60
Like our original review, we went back to the 5 x 52 robusto – which continues to be the best size we've smoked of this blend. The flavor profile consists of nuts, cayenne pepper, cedar, wood, and floral notes. When smoking this cigar with 18+ months age on it, I detected a lot less sweetness when smoking this cigar t In general the PDR 1878 series cigars don't undergo a lot of flavor transitions, but they do offer some nice flavor nuances. The depth of the flavors are medium to full, and the strength is medium.
The construction is outstanding. The burn has a firm, white ash with some minimal flaking. The draw is excellent.
Click here to for our initial pre-review of the PDR 1878 Reserva Dominicana Capa Habana. Click here for our assessment update.


Assessment: Nice to Have
Score: 89


Source: The cigars for this assessment update were purchased from Outland Cigars in Charlotte, North Carolina.