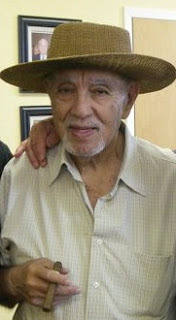 Avo Uvezian
(Cigar Coop Photo)
Avo Cigars put a teaser out on Facebook this morning on the upcoming Avo Limited Edition 2013 cigar.
The teaser consisted of a photo with some unbanded cigars in the background. It also featured a quality control sheet. There were no specifics as far as blend information, sizes, or nicknames. The photo did seem to indicate the Avo LE 2013 will be in a toro-like shape.
Since 2001, Avo Cigars has released an annual limited edition cigar to coincide with brand ambassador Avo Uvezian's birthday – which is March 22nd. This year Uvezian will turn 87 years old.
In 2012, the Avo Limited Edition 2012 was released and had the nickname "La Trompeta". The 2010 and 2011 Avo Limited Edition cigars have been highly rated by this web-site. The Avo Limited Edition 2010 was our #1 cigar for 2010 and the Avo Limited Edition 2011 85th Anniversary was our #5 cigar for 2011.
Update (2/20/13): New York City retailer De La Concha announced a birthday dinner for Uvezian on 3/18/13. In the announcement it was revealed the Avo Limited Edition 2013 will be dubbed the "Dominant 13". The 13 represents the 13th consecutive year there has been an Avo Limited Edition Cigar. It also is a connection to Uvezian's musical roots as it refers to the "Dominant 13th" chord. "Birthday" dinner events for Uvezian are common around the release of the Avo Limited Edition.