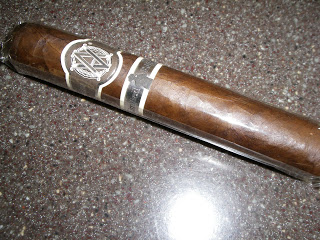 #1: 2010 Cigar of the Year – Avo LE 10
This is the final installment of "30 Cigars in 31 Days" – my review of the Top 30 Cigars for 2010. We have reached the final selection and the best is saved for last – the 2010 Cigar of the Year.
My selection for 2010 Cigar of the Year is the Avo LE 10 (a.k.a the Avo Limited Edition 2010) While all along I mentioned there were seven cigars up for the top honor, each time I considered one of the other six, it kept coming back to the LE 10. This is a cigar of historic proportions. I would stand this cigar up with some of the cigars that are hall of famers – including any Padron. I had this cigar back in May, so this isn't a Johnny-come-lately stick. From that point on, I knew I had sampled something special – and it was clearly the stick to beat for the remainder of 2010. And just about everyone who sampled this stick has been blown away by how good it is.
The name Limited Edition says it all. I've heard there only have been 10,000 sticks made – and they are sold in boxes of 10, so the math comes out to 1000 boxes. Definitely a limited run stick.
In the year of that seemed to be dominated by Nicaraguan tobacco,, this one does not have a drop of Nicaraguan tobacco in it. It has a very familiar Ecuadorian Sun-Grown wrapper, a Mexican binder, and Dominican all-Ligero fillers. The combination of these tobaccos make up for a full strength and full bodied smoke. The stick is only available in a single vitola called which is known as the Super Robusto (a 5.5 x 55)
The flavors do not disappoint. This is a cigar that is going to provide a wonderful combination of cherries, earth, cocoa, espresso, and even some cedar pepper spices. The draw and burn were perfect each time I had this stick. I've heard some people say there was too much glue on the band, but I have not encountered that problem to date. This isn't your typical Avo flavor profile – that's for sure.
Yes there is a $15.50 suggested retail price, but don't let that deter you. You are getting a cigar of monumental proportions and one you are going to want to have a supply of for many years to come.
Congratulations to Avo Cigars on releasing my 2010 Cigar of the Year!!
I will have a special write-up on this – the 2010 Cigar of the Year in the near future.
Recommended Vitola: Super Robusto 5.5 x 55 (only Vitola available)