Assessment Updates will be posted on this web-site to: 1) Assess "pre-review" cigars that were not given a rating or score (typically pre-release cigars); 2) Provide numeric ratings to cigars previously assessed prior to the implementation of the numeric scoring system; 3) Provide a re-assessment and re-score of previously assessed/score cigars. Today, we provide a rating and numerical score to the Herrera-Esteli by Drew Estate This was a cigar we did a pre-release review for back in August, 2012.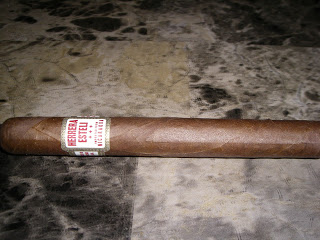 Herrera Esteli by Drew Estate
The Herrera Esteli is the first cigar blend that made by blender Willy Herrera for Drew Estate. In 2011, Herrera came from El Titan de Bronze in Miami, Florida to join the Drew Estate team. The first release was designed to fill a void in the Drew Estate cigar portfolio – namely a cigar that has a true Cubanesque flavor profile. As this cigar was in the works, Drew Estate Chairman Jonathan Drew was beaming with pride as he knew he had a winner. When we smoked the pre-releases of this cigar, we agreed. This cigar finished as our #2 Pre-Release Cigar for 2012. Now that this cigar has started to trickle into retailers, it has not lost any of its touch. This cigar is nothing short of a home run by Drew Estate.
The blend of the Herrera Esteli is a multinational one. It consists of an Ecuadorian Habano wrapper, a Honduran binder, and Nicaraguan fillers from Jalapa and Esteli. The cigar has been launched in five sizes: Robusto Extra (4 7/8 x 46); Corona (5 1/4 x 42); Lonsdale (6 x 44); Piramide Fino (6 x 52); and Toro Especial (6 1/4 x 52). We fell in love with the lonsdale on this blend. This is what we first assessed, and this is what we are scoring on.
Not only is this cigar Cubanesque in appearance, but it is also Cubanesque in its flavor profile. The flavor notes served up include: toast, pepper, natural tobacco, and vanilla. The flavors are medium-bodied and are balanced by some medium strength.
The construction is nothing short of perfect. This is a well-made cigar and it reflects in its excellent burn and flawless draw. Each time I smoked the Herrera Esteli Lonsdale, I was able to get a firm, cool nub right to the fingers.
Click here for our original pre-release assessment of the Herrera Esteli.
Assessment: Memorable
Score: 95
Source: The cigar for this particular assessment was gifted by a friend (thanks SG). This was a retail-shipped cigar to Smoke Inn Cigars in West Palm Beach, Florida.