Assessment Updates will be posted on this web-site to: 1) Assess "pre-review" cigars that were not given a rating or score (typically pre-release cigars); 2) Provide numeric ratings to cigars previously assessed prior to the implementation of the numeric scoring system; 3) Provide a re-assessment and re-score of a previously assessed/scored cigar. Today, we provide a numerical score to the Kristoff Kristania. This was a cigar we assessed December 2011.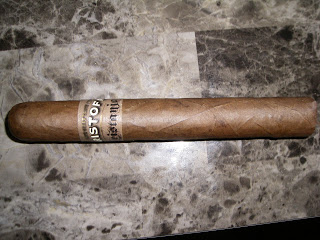 Kristoff Kristania
The Kristoff Kristania was released in 2011 by Kristoff Cigars. Kristoff Cigars is a boutique cigar company founded by Glen Case. For the Kristania, Case used the names of his children – Kristofer and Brittany. Today, we revisit the Kristania and see how it scores.
The Kristania consists of Dominican Habano tobacco in the filler and binder – wrapped with a Nicaraguan Criollo Habano leaf. The Kristania was originally released in three sizes: Robusto: (5 x 50) ; Toro (6 x 52); and a gordo size (5 1/2 x 60). Recently
Case has mentioned that a 7 x 70 size will be joining the line
. For this Assessment Update, we once again smoke the Toro.
The Kristania didn't have a lot of major flavor transitions, but there were some nice flavor nuances. The flavor profile of the Kristania yielded notes of pepper, wood, cedar, black cherry, and vanilla cream. The black cherry notes were something I didn't detect when the Kristania was first assessed. This time around, the pepper notes were also bolder. Overall the flavors of the Kristania are bold and robust – definitely in the full-bodied range. This cigar definitely has more of an edge of flavor over strength as I assessed the Kristania to be medium strength.
Originally I assessed the Kristania to have an good draw and excellent burn. This time around the draw turned out to be excellent. The burn did require more touch-ups this time around to keep burning straight.
Overall, this is a nice cigar to keep around.
Assessment: Nice to Have
Score: 88
Source: The cigars for this assessment update were purchased from Outland Cigars in Charlotte, North Carolina.