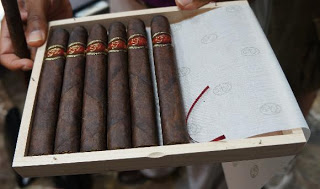 The Pipe and Pint 15th Anniversary
This past weekend, we reported initial details of a limited production, retailer exclusive cigar by La Flor Dominicana for Greensboro, NC's retailer – The Pipe and Pint.
Additional details have now surfaced on the cigars itself. The cigar is officially called "The Pipe and Pint 15th Anniversary". As per the facebook post, the Pipe and Pint 15th Anniversary is: "handcrafted by The King of Ligero, Litto Gomez, celebrating 15 years as the "Tobacconist to the Triad of North Carolina"!!!The Cigar: There is limited, and then there is LIMITED. Only 2,000 total cigars crafted."
The cigar is described as "Incredibly full, balanced, and ridiculously smooth. The epitome of Litto's blending mastery."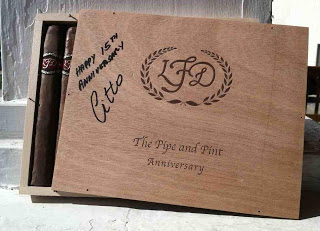 This will be a one time release. Once the cigars are gone – they are gone. Here are the details of the cigar:
Blend Profile
Details of the blend are not being disclosed other than that "the tobacco's that have been used are very, very old."
Vitolas Available

The Pipe and Pint 15th Anniversary is a 6 1/2 x 54 vitola described as a "true box press". The cigars also contain a traditional pigtail twist.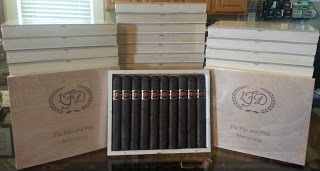 The cigars are also boxed slightly damped with lids hammered in place tightly. Pricing will be $150.00 per ten count box.
Source: Special thanks to the Pipe and Pint for the information and use of the pictures.