Assessment Updates will be posted on this web-site to: 1) Assess "pre-review" cigars that were not given a rating or score (typically pre-release cigars); 2) Provide numeric ratings to cigars previously assessed prior to the implementation of the numeric scoring system; 3) Provide a re-assessment and re-score of a previously assessed/scored cigar. Today, we provide a numerical score to the Lou Rodriguez Habano-Rosado. This was a cigar we assessed November 2011.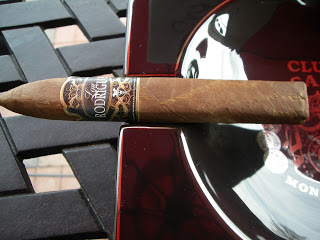 Lou Rodriguez Habano-Rosado
In 2012, we listed our "Five Boutiques to Watch" for the IPCPR Trade Show. One of those five companies was Lou Rodriguez Cigars. The company was started by Lou Rodriguez, a surgeon based in Greenville, North Carolina. His company is a true "seed to store" cigar company as they grow their own tobacco, have their own factory, and handle their own distribution. Rodriguez himself is a maduro fan, but word is he had to be convinced to go outside the maduro-zone. In 2011, the company released an Ecuadorian Habano wrapped cigar called the Lou Rodriguez Habano-Rosado. This cigar was launched at the 2011 IPCPR Trade Show. Of all of the core line cigars by Lou Rodriguez, this one often gets the most overlooked. While normally I am not a belicoso fan, this has proven to be the best vitola of this line. Today, we once again revisit that Habano-Rosado and provide a numeric score.
As mentioned, the cigar has an Ecuadorian Habano-Rosado wrapper. This wrapper surrounds Nicaraguan tobaccos in the binder and filler. There are five vitolas that have been released for this blend: Corona (5 1/2 x 42); Belicoso (5 1/2 x 52); Churchill (7 x 54); Gordito (6 x 60); and Presidente( 8 x 50).
The flavor profile is a good one and pretty much remained the same from when we first assessed this cigar. There aren't a lot of flavor transitions, but there are nice flavor nuances. The cigar delivers notes of natural tobacco, floral, citrus, and red pepper. There is a nice underlying sweet spice to this cigar. The flavor notes are medium-bodied. The strength is not overpowering. It starts off on the upper end of mild to medium strength before progressing to medium strength in the last third.
The construction is top-notch – and this is a staple across the Lou Rodriguez lines. Both the burn and draw were excellent.
Click here for our original assessment of the Lou Rodriguez Habano-Rosado.
Assessment: Nice to Have
Score: 90
Source: The cigar for this assessment update was provided by Lou Rodriguez Cigars. Cigar Coop is appreciative for the sample, but in no way does this play a role in our assessment rating and score.