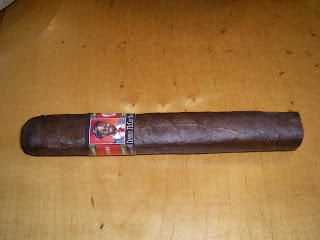 Eddie Ortega, president of Ortega Premium Cigars recently put out some information on Facebook in regards to his fifth release of the Ortega Wild Bunch 2013 series. This fifth release will be known as "Dandy McCoy" and is scheduled to be the May, 2013 release.
The concept behind the Ortega Wild Bunch is to dedicate a cigar to various cigar enthusiasts whom company president Eddie Ortega has personally met during his time in the cigar industry. During 2013, each month a different cigar – in a different size and blend will be released as a tribute to these various people.
The Dandy McCoy cigar was originally scheduled to be the October release. Ortega has said several times as the releases of the Wild Bunch 2013 continue that the names and releases of the future cigars are subject to change.
The inner part of the box reads as follows to describe the character of "Dandy McCoy":
The Dandy is a sharp dressed man who enjoys the company of beautiful ladies, some even share his passion for cigars.


A proud native New York, he enjoys the excitement of city life and the frequent get-togethers at the local shops with his friends in the "Grown & Sexy In The City Cigar Group"
Currently the series looks as follows (with future releases again subject to change):
January: Big Bad John "Jackhammer"
February: Iron Mike "I Beam"
March: Island Jim "Wahoo"
April: Tony "The Boss"
May: Dandy McCoy "Empire State"
The June release is expected to be "Honest" Abe.
Blend Profile
The Dandy McCoy will be the first of the Ortega Wild Bunch 2013 series to feature a Connecticut Broadleaf wrapper.
Wrapper: Connecticut Broadleaf Maduro
Binder: Not disclosed
Filler: Not disclosed
Vitolas Available
As mentioned above, each monthly release of the Wild Bunch is a unique blend in a different vitola. This is the first box-pressed vitola of the series. The vitola is named "Empire State" and measures 6 x 54.