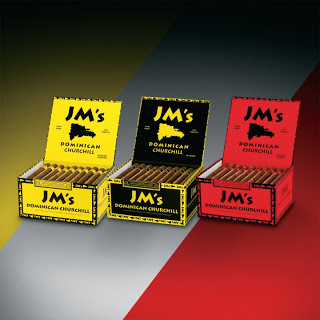 New 4″ x 62 Gordito from JM Tobacco fills a slot
in all four JM's Dominican lines
"For years," reports Anto Mahroukian, president of JM Tobacco, "our JM's premium cigars have included 5.5″ x 62 Gordo and 6.75″ x 62 Gordo Grande shapes. Now, with smokers moving to large ring-gauge shapes, we're offering our new Gordito, a short, fat 4″ x 62. Gordito has joined all four existing lines of JM's Dominicans … Connecticut Shade, Corojo, Sumatra and (Connecticut broadleaf) Maduro. We feel this new shape will gain a following, because it delivers a 30- to-45-minute smoke that is filled with the same rich, complex flavors as our other shapes … like a Robusto, but with the extra- full flavor of a large ring-gauge cigar."
Gordito's tobaccos are the same as those of the existing shapes in the four lines, with 100% fully aged, Cuban-seed strains, grown in the Dominican Republic. The cigar's flavor profile and medium body … like the other JM's Dominicans … are tailored to suit all smoking tastes.
The cigars come 24 to a box, in the same color schemes as the familiar JM's Dominican offerings, with box art in color combinations that identify the blends. MSRP for the Gordito will be announced at press time, and the first shipment will be made by JM Tobacco, in all four blends.
"This shape has always been my personal favorite," explains Mahroukian, "so we added it to our JM's Dominican portfolio. Its generous 62-ring cross-section delivers a rich volume of smoke, but our selection of tobaccos tempers the power. Combined with its 4″ length, Gordito rewards the smoker with plenty of satisfaction in a short duration smoke."
Source: The press release was sent from Dale Scott who represents JM Tobacco.