2013 marks the ten year anniversary Tatuaje Cigars. Pete Johnson and his company are planning several releases this year to commemorate the occasion. In addition to this being Tatuaje's ten year anniversary, it also is the ten year anniversary of Don Pepin Garcia. It has been the Garcia factories that have been producing Tatuaje's cigars.
Johnson and Tatuaje have been trickling information out on various media sources about some of the releases being planned. In addition to the release of a Tatuaje Ten Year Anniversary cigar, there are also some older cigars that were in limited release that are being brought back. Here is a summary of what we know thus far.
Tatuaje Ten Year Anniversary
From Johnson's 12/15/12 guest spot on Kiss My Ash Radio, we know this cigar will be based on the Brown Label blend. This makes sense because that is the cigar that really started it all for Tatuaje
There will be three special Ten Year Anniversary only cigar sizes – with one being allocated only to the TAA. We also learned some of the original Brown labels will receive the special 10 year bands for this year only.
As for the new 10 Year Anniversary cigar sizes Johnson said one will be an old Cuban size in the shape of a long thin perfecto. He described it as almost a Corona Gorda size. There will also be a classic parejo. Our friends at Leaf and Grape have more details on this cigar.
The following is the banding for this cigar posted by Tatuaje on Facebook.
Tatuaje Cohete
The Tatuaje Cohete was a retail-exclusive cigar to Tower Cigars in Sacramento, California first released in 2006. Johnson recently posted on twitter and facebook confirming that the Tatuaje Cohete will be returning soon. In addition, Tower Cigars has also announced this cigar on their web-site.
Blend Profile
Wrapper: Nicaraguan Corojo 99
Binder: Nicaraguan
Filler: Nicaraguan
Vitolas Available
The Cohete will once again be made available in one size. A 4 x 50 Short Robusto
Tatuaje Black Label Corona Gorda
Johnson also said on the December 15, 2012 Kiss My Ash Radio that this cigar would be making a return. Previously this cigar was released in a ceramic jar. Johnson said the Corona Gorda this time would come in a hard plastic jar. The cigar and blend will remain the same, but the cigar will have a different band. Johnson is doing a single large production run of 10,000 jars.


Blend Profile
Wrapper: Nicaraguan Sun-Grown Criollo
Binder: Nicaraguan
Filler: Nicaraguan
Vitolas Available
For completeness, we list all of the vitolas of the Black Label series.
Corona Gorda: 5 5/8 x 46
Culebra: 7 1/2 x 38
Petit Robusto: 4 3/8 x 52
Petit Lancero: 6 x 38
Robusto: 5 x 50
Toro: 6 x 50 (released for the Cigar Rights of America sampler pack)
Torpedo (Tubo): 6 1/8 x 52 (*)


Tatuaje Tattoo 2013
A little over a week ago, Tatuaje cigars posted a picture on Facebook of a new band for the new Tatuaje Tattoo . This was first reported by our friends at Leaf and Grape. In the Facebook comments of this picture, Tatuaje said "Different size and maybe a different blend. Not sure yet".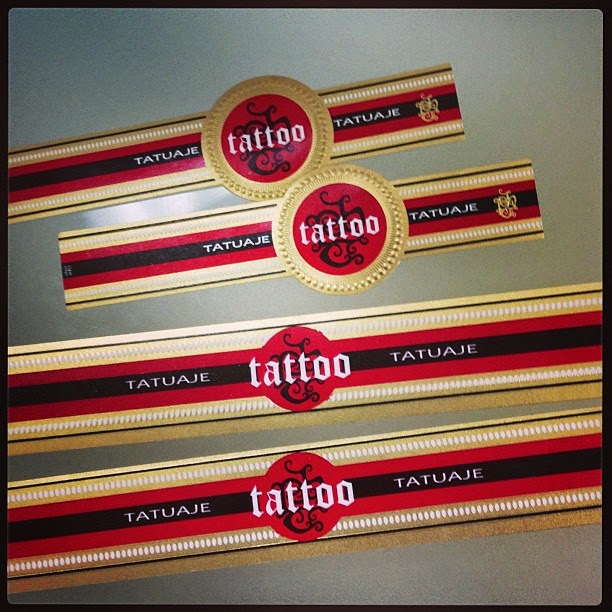 The Tatuaje Tattoo was previously released as a box-press lancero with a Habano Rosado wrapper. It was a limited cigar to top tier Tatuaje accounts. We reviewed this original cigar back in 2011.
Update (4/23/13): Clarification on the 10 Year Anniversary releases.