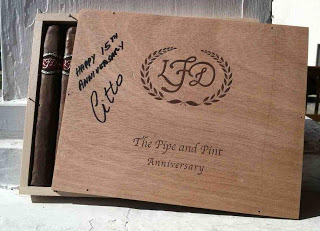 LFD – The Pipe and Pint Anniversary
(Used with permission from the Pipe and Pint
Facebook page)
La Flor Dominicana will be making an exclusive retail exclusive limited edition cigar for Greensboro North Carolina retailer Pipe and Pint. The cigar which is called the La Flor Dominicana – The Pipe and Pint Anniversary appeared on the retailer's facebook page.
Details of the cigar have not been released as on yet, but when the picture of the box was posted, the caption read – "There is limited, and then there is LIMITED". The cigar commemorates Pipe and Pint's 15th Anniversary.
The LFD Anniversary cigar is not the first retail exclusive to Pipe and Pint. In 2012, Miami Cigar and Company released a retail-exclusive version of the Nestor Miranda Collection to Pipe and Pint.
We will have more details as they are made available.