Note: For additional infomation on this cigar, see our review of the CAO Right Coast – featuring some insights from CAO Senior Brand Manager, Ed McKenna.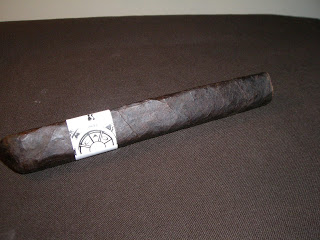 CAO Right Coast
The CAO Right Coast has arrived at select retailers in the southeast United States. This cigar marks a continuing trend in regional releases by General Cigar Company. In addition to being a regional release, the Right Coast has been made in a trapezoid-shaped vitola with a 72 ring gauge. First details of this cigar surfaced on halfwheel.com earlier this week.
As first reported by Cigar Brief, late last year, CAO released the CAO Left Coast to retailers in the Western United States. This cigar was also a trapezoid shaped cigar. The Left Coast limited production cigar. While no production numbers have been made available, it is anticipated the Right Coast will fall into this category.
In addition, General Cigar Company also released three large ring gauge regional releases late last year under the La Gloria Cubana line, the Sanson, Piramide Supra, and Gorda Gorda. All of these regional releases were also limited production.
As David Jones of the Tiki Bar Online pointed out to me, CAO Cigars once used a Trapezoid-shaped vitola on the CAO Cameroon Holiday Press.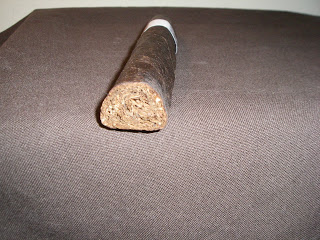 Trapezoid-shaped vitola
Note: There is not as big a color difference here, this
is due to camera lighting
Blend Profile
Specific blend details of the CAO Right Coast have not been disclosed at this time.
Vitolas Available
The CAO Right Coast is only available in a 6 3/4 x 72 trapezoid-shaped vitola. The cigar is packaged in boxes of 14.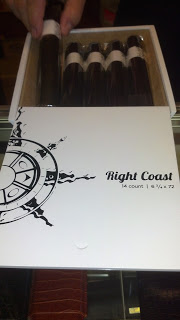 Source: Special thanks to Charlotte, North Carolina retailer Outland Cigars for the photo opportunities. They have received these cigars for sale in their store.