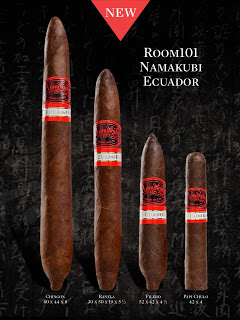 We have been reporting information around the Room 101 Namakubi Ecuador for the past couple of weeks. Information on the cigar and the blend has been posted on the Camacho Cigars web-site.
On the web-site, the description of the cigar is as follows:
The new Room101 Namakubi Ecuador is a fusion of wrapper and binder tobacco from a recent, highly rated Room101 release combined with the filler tobaccos of the original Namakubi line. The new Namakubi Ecuador comes packed in the original Namakubi boxes and utilizes a Samurai inspired outer wrapping for the diadema and perfecto shaped formats. The Room101 Namakubi is medium to full in body.
Here is the link to the press announcement.
Blend Profile
Wrapper: Habano
Binder: Authentic Corojo
Filler: Honduras, Dominican
Vitolas Available
As we mentioned last week, two of the vitolas were sizes released with the Room 101 LTD OSOK – the Filero and Chingron.
Papi Chulo: 42 x 4 (50 per box) $6.00 SRP per cigar
Filero: 52 x 42 x 4 1/2 x 42 x 52 (10 per box) $8.00 SRP per cigar
Ranfla: 30 x 50 x 19 x 6 1/2 (10 per box) $10.00 SRP per cigar
Chingon: 60 x 44 x 8 (10 per box) $12.00 SRP per cigar
Updated (3/7/13): Additional details from press announcement.