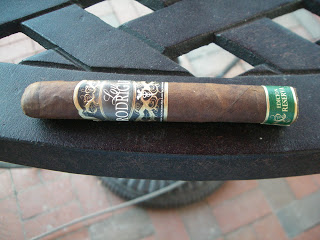 This original Lou Rodriguez Edicion Reserve will be
re-blended for 2013
Lou Rodriguez Cigars, will be releasing a new blend of its Edicion Reserve line. Information was told exclusively to Cigar Coop of the forthcoming change.
According to Lou Rodriguez Cigars' Matt Anderson, "We have strengthened our reserve line and will be re releasing the reserve in 2 weeks. Our shipment came in from nicaragua this week. This will be our strongest blend."
Anderson told us that the blend will replace the existing Lou Rodriguez Edicion Reserve line. The same six box-press frontmarks that exist in the current Edicion Reserve line will remain
Lou Rodriguez Cigars is a boutique cigar manufacturer based out of Greenville, North Carolina. The cigars have been building a strong following over the past couple of years. Last year, we identified Lou Rodriguez Cigars as one of our
"Five Boutiques to Watch"
prior to the 2012 IPCPR.
The original
Lou Rodriguez Edicion Reserve
is one of two maduros that were offered by Lou Rodriguez Cigars (the other being the
Edicion Premier
). The first release of the Edicion Reserve was positioned as the stronger of the two maduro blends. This new release will increase the strength.