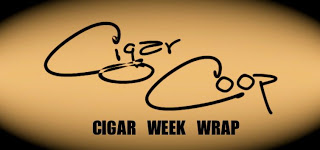 The Cigar Week Wrap is a one stop place to catch up on the activity here at Cigar Coop. It is a combination of our news reports, cigar reviews, and assessment updates we do throughout the week. We will throw in a few bonus items from time to time as well. Our intent is to publish once a week on Saturday mornings. Note: We have decided to label our posts as "Volume 2" to be consistent with the monthly "Editor's Corner".


News and Previews

Alec Bradley: Posted a short video providing an up-close look at the Alec Bradley Black Market Filthy Hooligan. We previewed this cigar back in January and it has now arrived at select retailers nationwide.
Avo: Details on the blend and vitolas of the Avo Dominant 13 (the Avo Limited Edition 2013) came out.
Crowned Heads: Announced the full line of vitolas for Headley Grange should arrive to retailers in late March. The company is also moving headquarters into the old CAO International headquarters. Our friends from A Cigar Smoker's Journal have the exclusive "behind the scenes" story on this move.
Drew Estate: In a Q&A session, Drew Estate CEO, Steve Saka talked about a new project called Nica Rustica. This is a blend described as an "innovative tobacco project" using a "unknown local strain of leaf". There is no immediate timetable or confirmation for a release due to "no production capacity". Saka also mentioned the new Willy Herrera blends and possible Undercrown Viva line extensions.
Hendrick Kelner: As per a report by Doc Diaz of Stogie Fresh, the son of Davidoff Master Blender Henkie Kelner has launched his own company.
Iconic Leaf Cigars: Announced the company's second line of cigars, the Recluse Draconian.
J. Fuego: The company announced some packaging and line changes. In addition to packaging changes on several lines, a 60 ring size is being added to the Origens Natural and Maduro line while the corona is being discontinued.
Joya de Nicaragua: Senior Vice President Jose Blanco took to twitter and dropped a hint that some new blends may be announced in the upcoming week. The statement from twitter is: Finishing of the day with one of the blends we are working, in the next couple of weeks you'll have some news from @joyacigars life is good!
Martin Family of Cigars: Details of the Pedro Martin Limited Edition have been made available. This joins the Casa Martin (which will be a regular production cigar) as 2013 releases by the company.
My Father Cigars: Announced the return of the El Centurion will be in a May timeframe. The company is confirming four sizes (Robusto, Toro, Toro Grande, Belicoso) instead of the original three that were released. We first reported on this cigar's return back in January, 2013.
RoMa Craft Tobac: Will be adding bands to its Intemperance line of cigars. These are the first RoMa Craft cigars to feature banding.
Room 101 Cigars: Announced the sizes of the Room 101 Namakubi Ecuador.
S.A.G Imports: Provided a press release on the Fonseca Cubano Exclusivo.
Reviews
Assessment Updates
Legislative News
Editor's Corner Vol 2, Number 3 (March 2013)


On this date March 2nd…