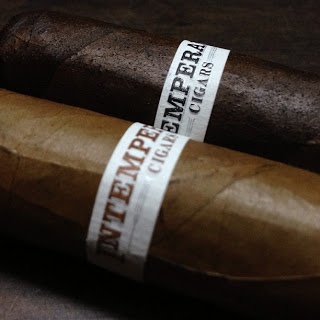 RoMa Craft Intemperance Bands
(Photo from Skip Martin's Facebook page, used
with permission)
RoMa Craft Tobac is adding bands to its Intemperance EC XVIII and Intemperance BA XXI lines. First details of these plans were made on the Stogie Fresh 5 podcast in an interview with RoMa Craft Tobac co-owner Skip Martin.
First pictures of Intemperance Cigars with labels appeared on Martin's Facebook page. The Intemperance cigars are the first RoMa Craft Tobac cigars to receive labels on it.
Recently we assessed the Intemperance BA XXI cigar and provided some background on this line of cigars:
The name Intemperance is a play on the Temperance Movement in this country. In 1918, a Temperance Movement resulted in the passing of the Volstead Act. This became the 18th Amendment to the Constitution which resulted in prohibition of alcohol. Prohibition would be repealed with the 21st Ammendment. In a cigar conversation we had with Martin at the 2012 IPCPR Trade Show, he explained that there was a tobacco component to the Prohibition movement. While they successfully banned alcohol, tobacco was still mainstream. Today the tables have been reversed and alcohol is mainstream while tobacco is more taboo. This reversal and how it plays into the cigar's name is summed up on the RoMa Craft Tobac's website:

"In the last sixty years, this anti-smoking movement has grown in influence and power much in the same way the temperance movement before it grew. We believe that it is well past time to initiate our own modern intemperance movement."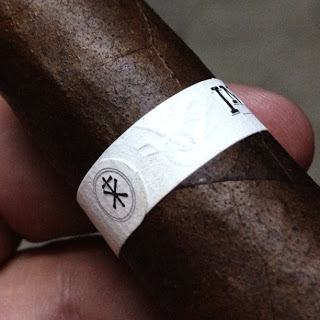 Back of RoMa Craft Intemperance BA XXI
(Photo from Skip Martin's Facebook page – used with permission)

The Intemperance EC XVIII references the 18th Amendment and the wrapper used (EC = Ecuadorian Connecticut). The Intemperance BA XXI references the 21st Amendment and the wrapper used (BA = Brazilian Arapiraca)