Assessment Updates will be posted on this web-site to: 1) Assess "pre-review" cigars that were not given a rating or score (typically pre-release cigars); 2) Provide numeric ratings to cigars previously assessed prior to the implementation of the numeric scoring system; 3) Provide a re-assessment and re-score of previously assessed/score cigars. Today, we re-asses the Viaje 5th Anniversary This was a cigar we assessed back in September 2012.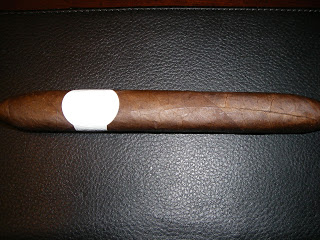 Viaje 5th Anniversary
The Viaje 5th Anniversary cigar was a cigar that was released back in September 2012. As the name indicates, it is a cigar meant to commemorate Viaje Cigars 5 years in the cigar industry. As with all Viaje cigars, they are released in small batch cycles, and at the time of this assessment update, the September release has been the only batch released. When we talked to Viaje president Andre Farkas at the 2012 IPCPR, he indicated that this would not be a "one and done" and that more releases could come. Our initial assessment scored this an 89. Since then, we've had an opportunity to smoke this cigar with 8 months of age on it – and this cigar has definitely improved with time.
The Viaje 5th Anniversary is a Nicaraguan puro. It is only made in one size – and that is a box-pressed perfecto that measures 6 1/4 x 52. It has a unique white band and is packaged in a unique white "kitchen cabinet" styled box.
The big change in this cigar is that the overall flavor profile is much smoother. It still provides notes of grass, natural tobacco, floral, cedar, wood, and pepper to it. The hickory notes I got back in September were not really there. At the same time, there were some citrus notes. It helped give this cigar a little sweetness and helped enhance the flavor profile. There was some nice pepper spice that was present on the retro-hale. The flavors start out medium-bodied and progress to medium to full-bodied. As for the strength, it keeps pace with the body – namely starts out medium strength in the first half and then progresses to medium to full.
The construction to this cigar is excellent and this is reflected in the burn and draw. Both score very well in this Assessment Update.
Click here for our original assessment for the Viaje 5th Anniversary.
Assessment: Nice to Have
Score: 91
Source: The cigars for this assessment update were purchased from the Maduro Room in Lexington, South Carolina.