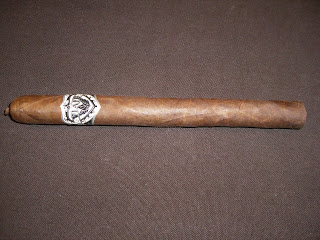 Viaje President Andre Farkas announced the ninth vitola in the Viaje Exclusivo line – the Viaje Exclusivo Super Lance.  The announcement was made on his Facebook page.
The Viaje Super Lance measures 7 1/2 x 46.  It is best to look at this as having the ring gauge of a Corona Gorda and the length of a lancero (7 1/2).
Viaje has announced four cigars in the past few weeks: Viaje Zombie Super Shot, Viaje WLP Super Shot, the limited Viaje Exclusivo Chiquito 2013 (to four retailers), and now the Viaje Super Lance.
We had an opportunity to smoke a pre-release of this cigar.  Click here for our thoughts and perspectives.
Blend Profile
Like most Viaje releases, the Viaje Super Lance is a Nicaraguan puro.
Wrapper: Nicaraguan Criollo
Binder: Nicaraguan
Filler: Nicaraguan
Vitolas Available
As mentioned the Super Lance becomes the ninth blend of the Exclusivo line.  For historical purposes, we list the nine vitolas to date of the Exclusivo series.  The Super Lance measures a 7 1/2 x 46.   We had originally reported the length to be 7 1/4 which turned out to be incorrect.
Super Lance: 7 1/2 x 46
Short: 4 1/4 x 42
Robusto (2010): 4 7/8 x 50 (released in jars and bundles)
Robusto (2012): 5 x 50
Chiquito: 4 3/4 x 51 (Every two years – limited retailers)
Double Edged Sword: 5 3/4 x 52
Tower Cigars 45th (Boxpress): 5 1/2 x 52 (Retail Exclusive to Tower Cigars)
Corona Gorda: 5 5/8 x 46 (Event Only)
Atlantic Cigar 15th Anniversary (Lancero): 7 1/2 x 40 (* Retail Exclusive to Atlantic Cigars)