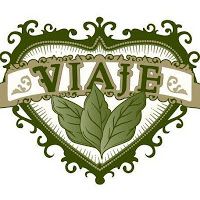 The Viaje Zombie will be returning. 200 boxes of this ultra limited Viaje release will be heading to four retailers. Each retailer will receive a total of 50 boss. Information appeared in the 4/30/13 Cigar Insider.
There will be two versions of the Viaje Zombie released. Two of the four retailers will receive a blend in a white wooden box while a different Zombie blend will be packaged in a black box and sent to the other two retailers. The retailers have not been disclosed.
No blend specifics have been disclosed. Both the White Box and Black Box blends will feature a 5 x 52 robusto with a tapered unfinished foot. Blend details have not been disclosed. There also will be a special "collectible" packaged in each box that has not been disclosed.
The original Viaje Zombie was released in 2011 with a follow-up release in 2012. The Zombie was only released to a small amount of stores and for select events. The original Zombie was a double-capped Nicaraguan puro that was in a robusto-sized vitola. Recently, Viaje announced the Viaje Zombie Super Shot – a new version of the Super Shot based on a Zombie blend.