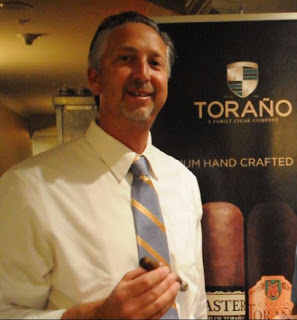 Charlie Torano (Cigar Coop Photo)
Torano Family Cigars will be releasing their second "Blend from the Vault". This one will be called the Torano Vault D-042. Company President Charlie Torano revealed this information in an interview with Over a Cigar at the 2013 Cigar Fest held in Lake Harmony, Pennsylvania.
"Blends from the Vault" was originally launched at the 2011 IPCPR Trade Show in Las Vegas. The first cigar, was known as the Torano Vault A-008 and that cigar finished as our #27 Cigar for 2011.
In the original press release of the "Blends from the Vault" series, Torano Family Cigars said:
Blends from the Vault originate from the family's cigar "blend book" which was started by Carlos Torano, Sr. in 1982. The blend book, which is now almost 30 years old, has a record of every blend concept the Torano family has ever worked on. The tobacco stained pages of this book include blends that could only come from a family with the history, knowledge and tobacco experience of the Torano family. Amongst the blends recorded are many which the family has released over the years, together with some blends which were deemed to have tremendous potential, but fell short of the family's high expectations. This book has come to symbolize the Torano's blending expertise, creativity, and is now securely stored in a safety deposit box in a bank vault.
According to an interview with Charlie Torano on Corona Cigar Company's blog, the blend was created back in 2004. Torano did not disclose anything about the blend composition or sizes, but did mention that the D-042 should be appearing in stores this Fall.