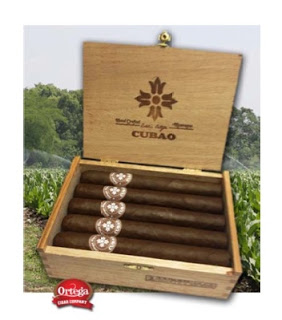 Ortega Premium Cigars, the company owned by Eddie Ortega is planning on re-launching the Cubao line. It was back in February when Ortega announced on Kiss My Ash Radio that he is bringing the back the Cubao in the Sumatra blend for 2013. While the blend will remain the same, there will be some changes in the vitola offerings and packaging. Information on the re-launch has recently been issued in a company press release.
Cubao, was a brand that was a part of EO Brands. The line was introduced back in 2008. When Ortega and his partner Erik Espinosa dissolved EO Brands, Ortega retained the rights to the Cubao line.
In terms of packaging, Ortega Premium Cigars is replacing what they term the "scrounge" look of the boxes with a sleeker and cleaner look. The Cubao will now be offered in boxes of 10 as opposed to the boxes of 20 it used to be packaged in. The frontmarks have been consolidated down to six vitolas as opposed to seven (the No. 6 is not returning).
In the press release Ortega said: "I've been meaning to re-introduce Cubao for a while now, just had my hands full
launching and promoting the Serie D which was the first brand under the Ortega name this past year, I think
now is the right time to re-introduce the Cubao."
While Ortega has announced the return of the Sumatra blend, there has been no word if or when the company will re-release the Maduro blend.
Blend Profile
The Ortega Cubao will be made at the My Father Cigars factory in Esteli, Nicaragua. This is where Ortega's Serie D line is produced. The cigar is positioned as a medium to full-bodied smoke.
Wrapper: Ecuadorian Sumatra
Binder/Filler: Esteli/Jalapa – Esteli
Vitolas Available
As mentioned, the 52 ring gauge No. 6 is not be offered. The following are what the company has listed as what the six sizes will be:
No. 1: 6 1/2 x 49 (SRP $7.65)
No. 2: 6 x 52 (Torpedo) (SRP $7.95)
No. 3: 6 1/2 x 38 (SRP $8.00)
No. 4: 4 1/2 x 50 (SRP $7.35)
No. 5: 6 x 50 (SRP $7.95)
No. 7: 6 x 42 (SRP $7.35)
Source: Information for this article was sent via press release from Ortega Premium Cigars.