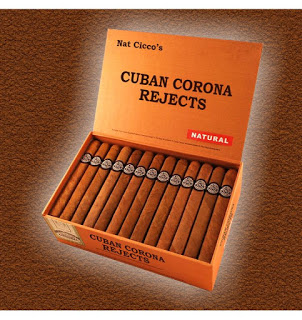 A Cuban Corona Shape for Nat Cicco Rejects
Zander-Greg, Inc., is offering two new value-priced offerings for Summer 2012. The company's new 6" x 42 Nat Cicco Cuban Corona is the first shape to join the original Churchill and Robusto Rejects, since the venerable brand appeared in 1965. Nat Cicco pioneered the "rejects" theme, still copied by many others.
Cuban Corona Rejects, formerly known as Nat Cicco Plazas, all have Connecticut Broadleaf wrappers in Natural, Claro and Maduro, as well as Natural and Maduro Aromatics. Like the Churchill and Robusto Rejects, Cuban Coronas are set apart from all others in their category by their filler tobaccos. They are hand-rolled from medium-length remnants of select Honduran, Nicaraguan and Dominican filler, from the world's top-selling and prestigious premium cigars. Their homogenized binder is Dominican-leaf-based, and the cigars are manufactured in Santiago, Dominican Republic, by one of the world's largest cigar companies. The result is a mild cigar, with the flavor and aroma that pleases a broad spectrum of smokers. Cuban Coronas are presented 50 to the box, and competitively priced …an extra bonus in today's economy.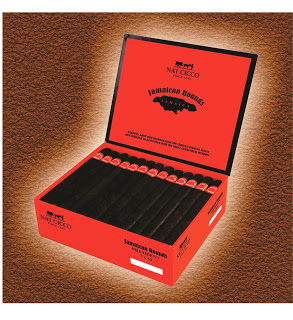 New Packaging for Jamaican Rounds
Zander-Greg's second unveiling is a new presentation for their popular Nat Cicco Jamaican Rounds. The original cedar box is now a more visible and attractive 50-count cardboard box. The red box label with black trim reflects the original band colors, emphasizing their presence on retailers' shelves. Jamaican Rounds are also mild, with Connecticut Broadleaf wrapper in Natural and Maduro. They were originally made by the Jamaican factory of the same company mentioned above, which subsequently moved its production to the Dominican Republic. Like the Cuban Coronas, they contain extra-select, medium-length tobacco remnants, but in a different blend . Jamaican Rounds are offered in 7-1/2″ x 46 Presidents, 6-1/2″ x 43 Palmas, 7-1/2″ x 34 Regales (aka Portofinos) and 5″ x 34 Delights.
Both the Nat Cicco Cuban Coronas and Jamaican Rounds will be available in August, and are competitively priced, falling into the "value-priced" category.
Source: This press release was sent by an authorized representative of Zander-Greg. Cigar Coop will re-post press releases as a free service to those companies/groups that choose to send Cigar Coop press releases.