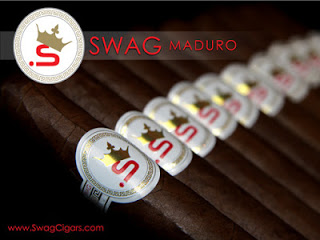 Swag S Maduro – image provided by
Boutique Blends Cigars
Boutique Blends Cigars is getting ready to launch the Swag S Maduro as a part of their Swag Cigars line. The Swag S will be launched at the 2013 IPCPR Trade Show in Las Vegas Nevada this July. Information for this new release was provided exclusively first to Cigar Coop.
The Swag S Maduro will add a maduro blend to the Swag Cigars as well as the Boutique Blends portfolio. The cigar will be launched in five vitolas in 20 count boxes. Boutique Blends describes the cigar as "Medium to Full" in terms of Body.
In positioning the new Swag S Maduro, Boutique Blends says: "The latest edition to our popular cigar LifeStyle line, the new S reflects the taste of young and modern smokers who are tired of the same old traditional brands"
The Swag S is made with Dominican premium tobacco as binder and filler and with an oily tasteful Nicaraguan maduro claro.
In terms of the presentation and cigar, Boutique Blends gives the following description:"The Contemporary slick presentation was designed by Fabian Barrantes VP of Swag Cigars & VP of Product Development at Boutique Blends cigars, Swag 'S' comes with a Greek/European themed design for that euro luxury feel & like he says 'its just different' that type of look that no one is really achieving or even thinking of designing and going outside the box like swag cigars has been doing for the last 3 years, is the reason why our fan base supports our brand regarding of a pop urban name that most wont try but definitely miss out on some incredible blends, oversize vitolas, perfect construction and an incredible taste is what Swag S is all about."
Here is a summary of the particulars:
Blend Profile
Wrapper: Nicaraguan Maduro Claro
Binder: Dominican
Filler: Dominican
Vitolas Available
The five vitolas are geared toward larger ring gauges.
Spin: 5 1/2 x 57 (pigtail) ($165.00 MSRP)
Infamous: 6 x 54 ($172.00 MSRP)
Ego grande: 6 1/2 x 60 ( $178.00 MSRP)
Carter: 7 7/8 x 63 ($205.00 MSRP)
The Bawse: 7 x 70 ($190.00) MSRP
Source: Information for this article was provided by Boutique Blends