Assessment Updates will be posted on this web-site to: 1) Assess "pre-review" cigars that were not given a rating or score (typically pre-release cigars); 2) Provide numeric ratings to cigars previously assessed prior to the implementation of the numeric scoring system; 3) A re-assessment and re-score of a previously assessed/score cigars. Today, we provide an assessment rating and score for the Room 101 Big Delicious. This was a cigar we did a pre-release review in April, 2013.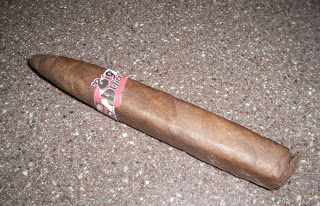 Room 101 Big Delicious
The Room 101 Big Delicious is a retail exclusive cigar to South Florida retailer Smoke Inn. It is the sixth installment of Smoke Inn's MicroBlend Series. The concept involves Smoke Inn teaming up with some of the biggest names in the cigar industry to produce a one time limited run exclusive to its shop . This marks the first retail exclusive that was done by Matt Booth's Room 101 Cigars. With three months of age now on these cigars, we revisit the Room 101 Big Delicious. Overall, this is another outstanding edition to the MicroBlend series, and one of Room 101's best cigars to date.
The synergy between Booth and Smoke Inn Proprietor Abe Dababneh should not be overlooked – and it definitely contributed to the success of the project. When we first assessed the pre-release, we wrote:
The Big Delicious gets its name from Smoke Inn Proprietor Abe Dababneh (who already has several other nicknames including "Honest Abe" and "Ming"). The Room 101 Big Delicious collaboration brings together two of the most creative minds from the retail side (Dababneh) and manufacturer side (Booth). This has even been showcased in the pre-release marketing of this cigar in a 16 part weekly fictional comic strip called "The Adventures of Swanky White (Booth) and Big Delicious". Marketing aside, the product stands on its own and doesn't miss a beat with any of the pre-release hype.
For the Room 101 Big Delicious, the cigar is offered in a 6 1/4 x 42-54 box-press torpedo with what we coined a "loose covered foot", It was mentioned in the press release that the Big Delicious "will be comprised of a special recipe of tobaccos based off of Room101's last successful Limited Release." This includes a Habano 2000 wrapper over tobaccos from Brazil, Honduras, Nicaragua, and the Dominican Republic. The cigar is produced at Tabacos Rancho Jamastran in Danli, Honduras.
We didn't see age change things much, but the cigar still smokes as well as it did when we assessed the pre-release. The cigar has a highly complex flavor profile consisting of coffee, floral, natural tobacco, pepper, earth, and cream notes – with lots of flavor transitions. The flavors start out medium to full-bodied and then progress to full bodied by the second third. The strength starts out medium in the first half, before progressing to medium to full in second half. The Big Delicious emphasizes flavor over strength. We did find while this is not a "morning smoke", the complexity of this cigar is best enjoyed (even more so than most cigars) as the first smoke of the day.

The construction to the Big Delicious is top-notch. The burn and draw scored very high. While I would have loved this in a traditional box-press as opposed to a torpedo, the torpedo had no negative impacts on burn and draw.

Click here to read our pre-release assessment of the Room 101 Big Delicious.

Assessment: Memorable
Score: 93

Source: The cigars for this assessment update were purchased from Smoke Inn Cigars. They have been resting in the Cigar Coop humidor since April, 2013