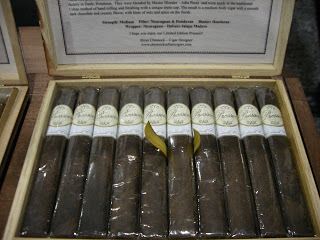 Chinnock Cellars Pressoir
Brian Chinnock of Chinnock Cellars came into the 2013 IPCPR riding a lot of success with his Chinnock Cellars Terroir. This time he decided to change things up quite a bit for his company's third line release called the Pressoir.
For the Pressoir, Chinnock introduces his company's first maduro. In addition, this is the first cigar by Chinnock Cellars made outside the United States. For this release, Chinnock collaborated with Compania Hondurena de Tabacos (Kuuts) in Danli, Honduras. The Pressoir was blended by Master Blender Adin Perez. On the packaging the band was designed by Manny Iriarte .
Chinnock has roots in the wine industry, so the Pressoir name ties very closely to this. According to the web-site, "a Pressoir is a machine that exerts pressure to form and shape or extract liquids from compressed solids. The French use this word to describe the device that winemakers have used for hundreds of years to press the fermented grape must to extract the alcoholic juice better known as wine. Surprisingly, the same word Pressoir is used to describe the device that cigar makers use to press their cigar molds to obtain the desired cigar shapes."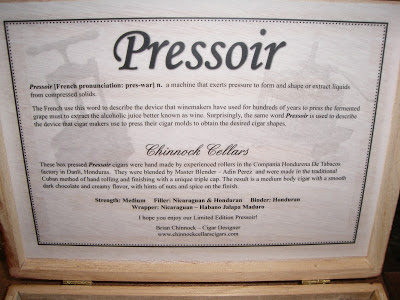 The Pressoir follows Chinnock Cellars Cigars tradition for
descriptive information on the inner box
The Pressoir is going to be a limited production cigar. An initial run of 4,000 cigars be made. Depending on how well the cigar is received will determine if there will be more cigars produced. The Pressoir has a targeted release date of October, 2013.
At a glance, let's take a closer look at the Chinnock Cellars Pressoir:
Blend Profile
Wrapper: Nicaraguan – Habano Jalapa Maduro
Binder: Honduran
Filler: Nicaraguan and Honduran
Vitolas Available
At this time the Pressoir is being offered in one vitola – a toro.