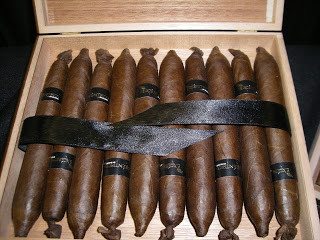 Elogio Excentrico No. 2
At the 2013 IPCPR Trade Show, boutique cigar-maker Elogio Cigars showcased their newest blend in the Excentrico line. The Elogio Excentrico No. 2 brings an all-new blend to an all new size – and once again will be a small batch, limited release.
Elogio is a boutique cigar company run by Nabil and Rosaline Sabbah out of Wichita, Kansas. Elogio is are made in Nicaragua and are blended by Carlos Pereda Robaina. If you recognize the Robaina name – it is the one you are probably familiar with.. Carlos is the grandson of renowned grower and blender Alejandro Robaina. Elogio is a true vertically integrated boutique company as they are involved in the entire cigar lifecycle – from seed to store. Given their size, their cigars are limited in availability (they produce only 50,000 total per year) and only made available to select retailers. This is done to meet demand while delivering a high quality product.
It was at the 2012 IPCPR Trade Show where Elogio unveiled the Excentrico series. It was at that show where we were told, the name stems from the Chinese Zodiac and the dragon creature. The dragon is the only mythical creature of the 12 creatures of the Chinese Zodiac. The dragon is also known for its eccentric behavior, thus the name Excentrico.
As mentioned the blend and size for the Excentrico No. 2 differs from the 2012 Excentrico release. From our discussions with Elogio, it appears this is part of the vision of the line – to produce a different blend in a different size.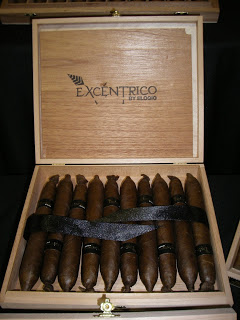 At a glance, let's take a look at the Excentrico No. 2. Initial information on this cigar was provided exclusively to Leaf and Grape a few weeks ago prior to the trade show. This was one source that Elogio as their press information during the 2013 IPCPR Trade Show.
Blend Profile
Wrapper: Ecuadorian Habano Oscuro
Binder: Habano
Filler: Ligero Esteli, Ligero Jalapa, Seco Jalape, and Viso Ometepe
Vitolas Available
For the Excentrico No. 2, this introduces a salomon vitola into the line. Like the 2012 Excentrico, the cigar has a fan-tail attached to the cap, but the Excentrico No. 2 has a much smaller tail. The cigar measures 7 1/4 x 58. The cigars will be packaged in boxes of 10 and there will be a total of 200 boxes produced. The Excentrico No. 2 will have an SRP of $15.00.